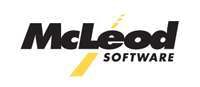 McLeod Software announced a new product in the company's enterprise application software solution for transportation companies, following the acquisition of Enterprise Information Solutions (EIS) of Downers Grove, Ill.
By adding LoadMaster LTL, an operations management solution for less-than-truckload companies, McLeod has extended the company's LoadMaster enterprise application beyond the truckload carrier market it has served for the last 25 years.
The EIS Transportation Solution Set (TSS) for LTL trucking operations will be integrated with McLeod's flagship LoadMaster enterprise dispatch management system to allow McLeod customers to support a truckload operations model, an LTL operations model, or both operating models within the same enterprise, the company says.
"By bringing EIS's TSS product and their team into our organization, we have completed what is probably the most complementary acquisition we ever could have imagined," says Tom McLeod, chief executive officer and founder of McLeod Software. "From a functional point of view, their products are a terrific extension for our current applications, and from a technology and systems architecture perspective, their development has been on a parallel path with ours for some years now."
Both McLeod and EIS have built their products on open systems standards using the Java development environment. Additionally, both companies have architected their applications software products to support multiple operating systems, a diverse choice of database management systems, standard graphical user interfaces and full integration with mobile communications.
Key functions of TSS (now LoadMaster LTL) include cross-dock operations, LTL route and shipment optimization, phone center integration, dock/door management and LTL rating optimization.
Besides LoadMaster and LoadMaster LTL products, McLeod Software offers a PowerBroker application that supports brokerage operations, an iLens application for freight management that is designed to manage 3PL operations. McLeod Software acquired iLens last year.
Marc Mitchell, EIS founder and Director of EIS's Transportation Practice, will join McLeod Software as the product manager for LoadMaster LTL. He is bringing along the rest of the employees of EIS who are now members of the McLeod team. He and his staff will continue to work from the former EIS Chicago office in Downer's Grove, which has become McLeod Software's new Midwest regional office.
"By joining forces with McLeod Software, we are taking a quantum leap in what we are able to offer our TSS customers and the broader LTL marketplace," says Mitchell. "Our integration with the other elements of the McLeod application portfolio will allow us to offer a complete end-to-end enterprise solution for LTL companies, while at the same time bringing the resources, reputation and financial strength of McLeod Software to bear for those customers."