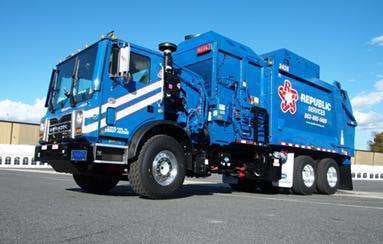 Mack Trucks Inc. on Tuesday, Oct. 26, introduced a natural gas-powered version of its TerraPro Cabover model for the refuse and construction applications. Mack officials made the announcement and displayed the truck at the company's World Sales Conference, being held at the new Mack Customer Center here this week.
The Mack TerraPro Cabover model is now available with heavy-duty natural gas engines supplied by Cummins Westport. The 9-liter Cummins Westport ISL G is rated at 320 hp, can use compressed or liquefied natural gas, and has a three-way catalyst to meet U.S. Environmental Protection Agency 2010 emissions standards.
"With this new natural gas product, an industry-leading truck is now coupled with an alternative fuel option," says Curtis Dorwart, Mack vocational products marketing manager. "The cabover design combines Mack durability with an interior aimed at driver comfort and productivity. Adding the natural-gas powered engine allows our customers to be environmental leaders in their markets and communities."
Natural gas-powered vehicles are becoming more popular in the refuse market. A growing number of municipalities mandate alternative fuel vehicles as a condition of contracts with refuse haulers. Increasingly, communities are expecting industries to move in the direction of energy independence and use of fuels from renewable sources. The natural gas TerraPro Cabover also qualifies for tax credits.
"With the Mack TerraPro model series, we've created a family of trucks that meet the application and productivity needs of our customers – and now the demand for cleaner emissions and alternative fuel options as well," says Dorwart. "The natural gas version of our TerraPro Low-Entry model is already being very well-received in the market, and we're confident our new natural-gas powered TerraPro Cabover model will be as well – both reflect the Mack long-standing commitment to innovation."
Republic Services, a provider of solid waste collection, transfer, recycling and disposal services – and a long-term Mack customer – recently took delivery of 41 natural gas TerraPro Cabover models.
"We are always interested in new and innovative technologies to improve our operations, reduce emissions and shrink our carbon footprint," says Roy Svehla, senior fleet manager for Republic. "With the TerraPro line, Mack has shown its ongoing commitment to meeting the needs of the customer and the demands of the industry."
Dorwart says that the Mack trucks have been engineered specifically and built to operate on natural gas. The ISL G engine is installed on the production line at the Mack Macungie Assembly Operations plant in Pennsylvania and come with factory support and warranty, Dorwart says.