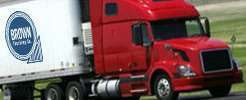 Lithonia, Ga.-based James Brown Contracting, Inc. (Brown Trucking), a Southeast dedicated short-haul truckload carrier, has acquired Durham, N.C.-based West Brothers' Companies, a provider of transportation, logistics and leasing of commercial fleet services in the Southeast with 220 trucks and 600 trailers. Brown Trucking now has a combined total of 810 trucks and 3,500 trailers. This acquisition comes on the heels of Brown's acquisition of dry-van truckload carrier Schrader Trucking in September.
West primarily works in verticals such as paper, construction machinery, personal care products, consumer packaging and pharmaceuticals. Brown Trucking has historically focused on service to the paper and packaging, major appliances, consumer packaged goods and building materials industries.
The acquisition, which opens three new lines of business for Brown, includes four West-owned subsidiaries: a dedicated trucking company, a global freight brokerage services provider, an asset-based full-service truck leasing and maintenance company, and a contract warehousing and distribution services provider. Each West entity will become a division of Brown Trucking. Current owners Craig West and Tommy West will exit the business.
"Combining forces with West will diversify our customer concentration across industries, enable us to expand our service offerings and provide significant cross-selling opportunities," said Brian Kinsey, CEO of Brown Trucking. "West has built a strong business that fits well within Brown's geographic footprint and will enable more efficient asset utilization. Our combined companies can now offer an integrated solution across the supply chain for customers in a variety of industries throughout the Southeast, expanding to other parts of the U.S. and Canada."