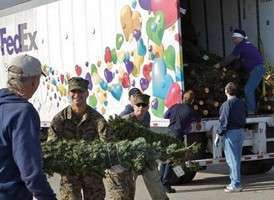 FedEx Corp. and the Christmas SPIRIT Foundation are joining together this holiday season to deliver real Christmas trees to thousands of military members and their families through the Trees for Troops program, now entering its sixth year. In the weeks leading up to Christmas, FedEx will deliver about 15,000 real Christmas trees to more than 50 military facilities in the United States and overseas as part of the 2010 Trees for Troops program.
"The Trees for Troops program allows us to give something back to the military men and women who give so much throughout the year to serve our country," says Bill Logue, president and chief executive officer of FedEx Freight. "The FedEx team is proud to continue delivering holiday cheer to military men, women and families."
On Wednesday, Nov. 10, the initiative began in Columbus, Ohio, when FedEx Express picked up about 300 trees from the Ohio Christmas Tree Association's Operation Evergreen at the Ohio Department of Agriculture Reynoldsburg campus; these trees will be delivered to service members stationed in Iraq via the FedEx Express hub in Indianapolis. A second shipment of nearly 100 trees will depart from Indianapolis on Tuesday, Nov. 30, for service members stationed in Bahrain, aboard vessels of the U.S. Navy's Fifth Fleet and other locations.
Throughout November, National Christmas Tree Association members across the country will donate thousands of trees to Trees for Troops through the Christmas SPIRIT Foundation, the NCTA's philanthropic branch. FedEx Express air operations will handle international tree deliveries, and the FedEx Freight trucking networks will move trees to military bases throughout the United States.
As in previous years, the public also may participate in Trees for Troops by purchasing trees and attaching a personal message for troops at more than 30 retail locations nationally during the official Trees for Troops weekend Dec. 3-5. Donated trees will be added to the program's delivery schedule. Retail locations are available at www.treesfortroops.org. Trees for Troops is a part of FedEx Special Delivery, a nationwide program that supports local organizations by donating transportation services and other assistance to help them fulfill their missions.