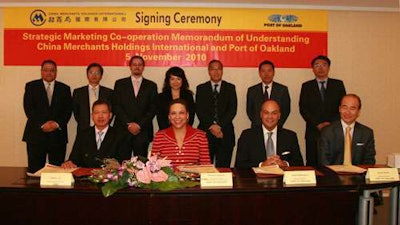 The Port of Oakland and China Merchants Holdings International Company Ltd. Recently entered into an agreement to strategically market and develop supply chain solutions for U.S. exports, particularly agricultural commodities and perishable products. A delegation from the Port of Oakland participated in a signing ceremony held at China Merchants' Hong Kong headquarters Nov. 5.
Efforts will focus on enhancing warehousing and logistics facilities and creating seamless cold chain services for U.S. companies exporting their perishable products to China. The Port of Oakland, the third-busiest container port on the U.S. West Coast and the fifth-busiest in the United States, serves as a premier gateway for U.S. food products such as fruit, nuts, vegetables, meats and wines exported throughout the world.
The port says it is aggressively coordinating its activities with the National Export Initiative to expand its export cargo volume to help meet the U.S. government goal of doubling export volumes by 2015. CMHI is a public port operator in China with a strategic network of ports in China's coastal regions. In the first six months of 2009, CMHI handled almost 25 million TEUs (20-foot equivalent container units) at its ports, terminals and logistics facilities throughout China.
"The form and scale of this partnership is a first for the U.S. port industry," says Omar Benjamin, Port of Oakland executive director. "China is a significant and rapidly growing market for U.S. food and agriculture products, but the lack of cold chain services is inhibiting the export potential. Our initiatives will help make it easier, safer and faster to export U.S. commodities from California and distribute them throughout China."
CMHI recently formed a joint venture, China Merchants Americold Logistics Co. Ltd., in partnership with U.S.-based Americold, one of the largest cold chain providers in North America. CMAC says this venture solidifies it as China's premier third-party temperature-controlled logistics provider, operating an integrated nationwide platform across 15 cities in China.
The first activity of the Port of Oakland and China Merchants strategic partnership was the Cold Chain and Logistics Seminar on Nov. 11 in Chengdu, in central China. It focused on the demand for U.S. products in the emerging markets of western China. Leading ocean carriers and logistics providers discussed distribution challenges in China's inland regions and provided best practices case studies. The seminar was co-sponsored by the Port of Oakland, the U.S. Foreign Agriculture Service and the California Agriculture Export Council.