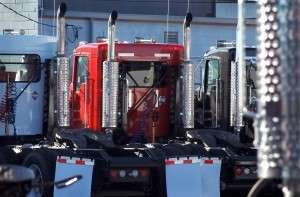 The National Highway Traffic Safety Administration and the Environmental Protection Agency on Tuesday, Nov. 30, officially published their previously announced joint proposal for the first-ever national fuel economy and greenhouse gas reduction (GHG) reduction standards on medium- and heavy-duty trucks and buses.
President Obama ordered the new standards in May, calling on them to be finalized by late July 2011. The American Trucking Associations backed the concept of national fuel economy standards as alternative to steps that would achieve reductions in greenhouse gases by forcing sharp increases in fuel economy standards.
The proposal, published in the Federal Register, covers model years 2014 through 2018 and sets out standards for three categories of trucks: combination tractors; heavy-duty pickups and vans; and vocational vehicles. The agencies said those categories were established to address specific challenges for manufacturers in each area.
For combination tractors, the agencies propose engine and vehicle standards that begin in the 2014 model year and achieve up to a 20 percent reduction in carbon dioxide (CO2) emissions and fuel consumption by 2018 model year.
Within the category of combination tractors, EPA and NHTSA are proposing differentiated GHG emissions and fuel economy standards for nine subcategories based on weight class, cab type and roof height. So there are separate standards for Class 7 day cabs, Class 8 day cabs and Class 8 sleeper caps in each of the following configurations: Low roof, mid roof and high roof.
For heavy-duty pickup trucks and vans, the agencies propose separate gasoline and diesel truck standards, which phase in starting in the 2014 model year and achieve up to a 10 percent reduction for gasoline vehicles and 15 percent reduction for diesel vehicles by 2018 model year (12 and 17 percent respectively if accounting for air conditioning leakage). Those standards vary based on a "work factor" that depends on a vehicle's payload, towing capabilities and whether or not it is 4-wheel drive.
For vocational vehicles — everything between the other two extremes — the agencies are proposing engine and vehicle standards starting in the 2014 model year that would achieve up to a 10 percent reduction in fuel consumption and CO2 emissions by 2018 model year. The vocational standards vary by weight class: Light heavy (Class 3-5), Medium Heavy (Class 6-7) and Heavy Heavy (Class 8).
Trailers are not included in the proposal "due to the first-ever nature of this proposal and the agencies' limited experience working in a compliance context with the trailer manufacturing industry," NHTSA and EPA said in a fact sheet. The agencies are, however, solicting comments on controlling fuel consumption and GHG emissions through trailers to prepare the foundation for a future rulemaking.
The agencies estmate that all the proposed changes together could save approximately 500 million barrels of oil over the life of vehicles sold during the 2014 to 2018 period and provide truck owners $35 billion in net benefits. A complete 391-page regulatory impact analysis is available on NHTSA's website.
Comments on the proposal are due 60 days from Tuesday's publication. A copy of the proposals, along with comments, are available at www.regulations.gov by searching EPA Docket No. EPA-HQ-OAR-2010-0162 or NHTSA Docket No. NHTSA-2010-0079.