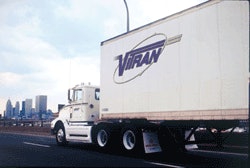 Vitran Corp. Inc., a Toronto-based less-than-truckload transportation and supply chain firm, announced that it has sold selected assets of Frontier Transport Corp. to Online Transport, based in Indianapolis. Online purchased 794 Frontier trailers, while Vitran will retain 174 of the newest trailers to be redeployed in its LTL operation. The proceeds and net working capital is about $5 million.
"For the last few years, Vitran has been focusing on its two core segments, LTL and supply chain operations," said Rick Gaetz, Vitran president and chief executive officer. "Frontier, our small owner-operator truckload operation, took a back seat. Therefore, we are extremely pleased with this transaction, as the majority of our associates will continue to serve our many valued truckload customers, and our sole focus will be on our two core operations."
Steve Cook, current president of Frontier, will continue to lead the business unit at Online. "I am appreciative of my longstanding relationship with Vitran and am excited to be bringing Frontier into a pure truckload environment so that we may aggressively develop the company into the future," Cook says.