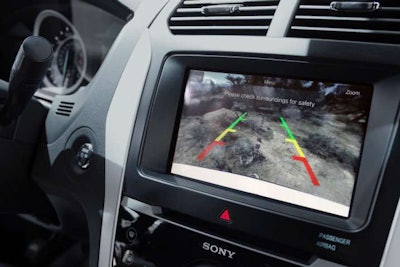 The U.S. Department of Transportation on Friday, Dec. 3, proposed a new safety regulation to help eliminate blind zones behind vehicles that can hide the presence of pedestrians. The proposed rule was required by Congress as part of the Cameron Gulbransen Kids Transportation Safety Act of 2007. Two-year old Cameron Gulbransen, for whom the act is named, was killed when his father accidentally backed over him in the family's driveway.
"There is no more tragic accident than for a parent or caregiver to back out of a garage or driveway and kill or injure an undetected child playing behind the vehicle," says Transportation Secretary Ray LaHood. "The changes we are proposing today will help drivers see into those blind zones directly behind vehicles to make sure it is safe to back up."
The National Highway Traffic Safety Administration proposal would expand the required field of view for all passenger cars, pickup trucks, minivans, buses and low-speed vehicles with a gross vehicle weight rating of up to 10,000 pounds so that drivers can see directly behind the vehicle when the vehicle's transmission is in reverse.
NHTSA believes automobile manufacturers will install rear-mounted video cameras and in-vehicle displays to meet the proposed standards. To meet the requirements of the proposed rule, 10 percent of new vehicles must comply by September 2012, 40 percent by September 2013 and 100 percent by September 2014. "The steps we are taking today will help reduce back-over fatalities and injuries not only to children, but to the elderly, and other pedestrians," says NHTSA Administrator David Strickland.
NHTSA estimates that, on average, 292 fatalities and 18,000 injuries occur each year as a result of back-over crashes involving all vehicles. Of these, 228 fatalities involve light vehicles weighing 10,000 pounds or less. Two particularly vulnerable populations – children and the elderly – are affected most. About 44 percent of fatalities involving light vehicles are children under five – an unusually high percentage for any particular type of crash. In addition, 33 percent of fatalities involving light vehicles are elderly people 70 years of age or older.
NHTSA is providing a 60-day comment period on this rulemaking that begins when the proposal is published Monday, Dec. 6, in the Federal Register. The proposal and information about how to submit comments is at www.nhtsa.gov/Laws-Regs.