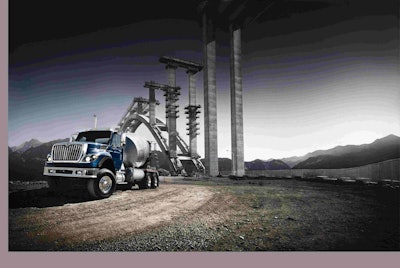 Navistar on Tuesday, March 22, showcased the company's long-awaited 15-liter exhaust gas recirculation-based diesel engine at the ConExpo construction show in Las Vegas, Nev. "Many of our competitors said we'd never get to this day," says Jim Hebe, Navistar's senior vice president of North American sales operations. "But we are here with a 15-liter EGR-only solution for our customers in severe-duty vocational applications."
Hebe noted that to fill the 15-liter gap in Navistar's diesel engine lineup, the company essentially had four options. "We could have developed our own, which would have taken too long," he explained. "We could have turned to a European partner – but none were available. We could have gone to SCR (selective catalytic reduction), which was not in the best interests of our customers.
"Or we could find the best available engine technology available in North America in the Caterpillar C15 block and leverage that with our air, fuel turbo and electronic systems to give our customers the best solution for their severe-duty needs – and that's exactly what we did," Hebe says. "This is Navistar engine technology and expertise built upon a proven Caterpillar platform."
The new MaxxForce 15 diesel is available with up to 550 hp and 1,850 lb-ft of torque. Peak torque is reached at 1,000 rpm and holds steady to 1,600 rpm, according to Navistar. This reduces gear shifts in uphill terrain and allows for shifting at lower speeds when accelerating. The MaxxForce 15 will be built at Navistar's engine plant in Huntsville, Ala., and is available now in vocational configurations. Engine options for on-highway (nonvocational) applications will be available in late summer.
In other news, Navistar announced a strategic partnership with Indiana Phoenix to produce a new front-discharge Continental Mixer truck this fall. According to Steve Guillaume, general manager of Continental Mixers, the new front discharge mixer will complement the company's lineup of integrated rear discharge mixers while integrating the components and engineering expertise of Navistar's International truck brand. The mixer model will be sold and serviced through Continental Mixer dealers, who also will provide parts support and service expertise. Production launch is expected this fall.
Continental Mixers also announced an all-new lightweight integrated mixer that will use a proprietary high-strength steel specifically formulated for concrete mixers. The company says the new design will deliver a nearly 2,000-pound weight savings versus comparably spec'd steel mixers. The new lightweight mixers include the optional ZF gearbox, which integrates the hydraulic pump in the gearbox housing. In addition, multiple barrel sizes are available to meet customer requirements. The new lightweight mixer will be available on both International WorkStar and International PayStar chassis.
Additionally, Navistar introduced several new features for its International WorkStar line of severe service trucks, including an all-new high-visibility sloped hood option and a completely refined interior with ergonomic enhancements and improved driver comfort features.