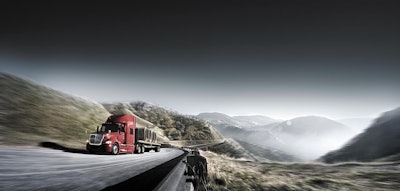 Navistar officials said Wednesday, March 30, the recent introduction of its 15-liter engine, its developments in alternative fuel engines and growth in other areas have enabled the company to establish itself at a much broader level of industry leadership than five years ago.
"With the addition of our MaxxForce 15, our lineup of MaxxForce Advanced EGR big bore engines truly differentiates us from the competition," said Jim Hebe, Navistar's senior vice president of North American sales operations. "The introduction of the ProStar+ with MaxxForce 15 now gives customers the ultimate combination in durability and power."
Navistar is the only heavy-duty engine maker using exhaust gas recirculation without selective catalytic reduction to meet federal emissions regulations. The MaxxForce 15 for the International ProStar+ is available with up to 500 hp and 1,850 lb.-ft. of torque. International PayStar heavy-duty vocational trucks are available with MaxxForce 15 up to 550 hp.
Navistar also demonstrated a prototype 2011 International ProStar+ with a 13-liter MaxxForce dual-fuel engine powered by diesel and liquefied natural gas. In partnership with Clean Air Power Ltd., Navistar has built and tested the 122-inch BBC tractor with a 430-hp 1,550 lb.-ft. engine that uses diesel pilot injection for combustion on the compression stroke and mixes air and LNG on the intake stroke. The result is an engine that runs on a mixture of 15 percent diesel and 85 percent natural gas, Hebe said.
The dual-fuel MaxxForce engine includes minimal changes to the stock diesel engine other than the addition of a natural gas injection system. Changes to the chassis include the addition of a 26-inch-diameter 119-gallon standard LNG tank that provides a 400-mile range, a coolant heated fuel vaporizer and an LNG regulator and filter.
In recent years, Navistar introduced diesel-electric hybrid versions of its International DuraStar and WorkStar trucks, as well as diesel-electric hybrid and plug-in hybrid versions of its buses. Last summer, the company introduced the all-electric eStar truck, which has zero tailpipe emissions and a 100-mile range.
"We are a different company," said Jack Allen, president of the North American Truck Group at Navistar. "We now have a full lineup of proprietary big bore engines and the most comprehensive lineup of fully integrated trucks and engines in the industry. We've grown into new markets and new geographies, and we have great momentum to continue that growth."
Navistar also introduced the "Drive It to Believe It" sales program offering component incentives and a customer offer for purchases of International TranStar and ProStar®+ Class 8 highway tractors. In addition, International truck dealers and sales representatives will have the opportunity to participate in a number of comprehensive sales training boot camps later this spring.
The "Drive It to Believe It" boot camp and sales program is designed to build on the success of the 2010 "Get in Gear" boot camps and sales program. Customers ordering and taking delivery of units under the "Drive It to Believe It" sales program can take advantage of a $3,500 invoice credit toward the purchase of a qualifying Eaton UltraShift Plus automated transmission or the addition of a complementary Meritor WABCO OnGuard collision mitigation system.
"Our International TranStar and International ProStar+ trucks are among the industry leaders in fluid economy, performance and driver comfort features," Hebe said. "With our 'Drive It To Believe It' sales program, we're backing up our words with some unique sales offers that gets new customers behind the wheel and out on the road to see for themselves."
The International "Drive It to Believe It" sales event is available now through Oct. 31.