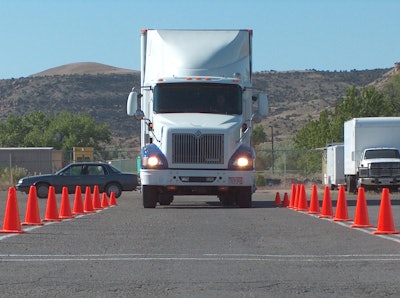 The Federal Motor Carrier Safety Administration on Thursday, May 5, issued its final rule amending the commercial driver's license knowledge and skills testing standards and establishing new minimum federal standards for states to issue a commercial learner's permit. FMCSA said the final rule will enhance safety by ensuring that only qualified drivers are allowed to operate CMVs.
"These new requirements we are announcing today will help ensure that carriers and drivers are in full compliance with federal safety regulations," U.S. Transportation Secretary Ray LaHood said at a press conference while standing beside motorcoach buses parked at Nationals Park in Washington, D.C., to highlight how the rule also will improve passenger bus safety.
The final rule requires that a CLP holder meet virtually the same requirements as those for a CDL holder, meaning that a driver holding a CLP will be subject to the same driver disqualification penalties that apply to a CDL holder. The rule also specifically prohibits a motor carrier from using a driver who does not hold a current and appropriate CLP or CDL to operate a commercial motor vehicle and from using a driver to operate a vehicle in violation of the restrictions on the CLP or CDL.
"These measures will help us to better identify and swiftly weed out unsafe and irresponsible operators," FMCSA Administrator Anne Ferro said at the press conference.
The final rule implements relevant sections of the Safe, Accountable, Flexible, Efficient Transportation Equity Act: A Legacy for Users (SAFETEA-LU) and the Security and Accountability For Every Port Act of 2006. Many of the program areas and issues dealt with in this rule are also addressed in the Department of Homeland Security's final rule implementing the REAL ID Act. FMCSA says it has coordinated efforts with DHS to write regulations that neither overlap nor conflict.
Successful completion of a knowledge test, currently a prerequisite for the CDL, now will be required before issuance of the CLP. The rule requires states to use driver and examiner reference materials, state testing questions and exercises, and state testing methodologies that FMCSA has preapproved. The state testing system must be comparable to the American Association of Motor Vehicle Administrators' Model Test's 2005 CDL Test System (July 2010 Version) for knowledge and skill standards, which FMCSA approved in its final rule. It includes a prohibition on use of foreign language interpreters in the administration of the knowledge and skills tests to reduce the potential for fraud.
The final rule requires that each applicant obtain a CLP and hold it for a minimum of 14 days before applying for a CDL. It establishes a minimum age of 18 for issuance of a CLP, which must be a separate document from the CDL, tamperproof and include the same information as the CDL. The only endorsements allowed on the CLP are a restricted passenger endorsement, a school bus endorsement and a tank vehicle endorsement.
Each state is required to create a CDLIS record for each CLP it issues. Before issuing a CLP, the issuing state is required to perform a check of the driver's previous driving record to ensure the driver is not subject to sanctions based on previous motor vehicle
violations. If the state discovers that the driver is subject to such sanctions, it must
refuse to issue a CLP to the driver.
The final rule also strengthens the legal presence requirements and increases the documentation required for CLP and CDL applicants to demonstrate their legal presence in the United States. The rule also addresses applicants who wish to attend a driver training school in a state other than the applicant's state of domicile; states are required to recognize CLPs issued by other states for training purposes. The rule also limits the initial and renewal periods for both CLPs and CDLs, and clarifies under what circumstances an applicant must surrender his/her CLP, CDL, or non-CDL. It also
requires all states to use standardized endorsement and restriction codes on CDLs.
This rule also includes requirements to improve the ability of states to detect and prevent fraudulent testing and licensing activity in the CDL program. States found in substantial noncompliance with the final rule's fraud control measures may be subject to the loss of federal-aid highway funds.
FMCSA's final rule is effective July 9. States must be in compliance by July 8, 2014. To read the final rule, go to www.regulations.gov; the docket number is FMCSA-2007-27659.