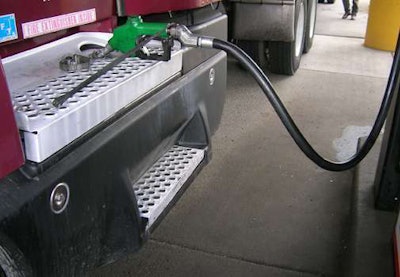 After five consecutive weeks of declining prices, the U.S. average price of a gallon of diesel climbed 8 cents to $3.801 during the week ended Monday, Oct. 17, according to the U.S. Department of Energy's Energy Information Administration. That price is 72.8 cents higher than the same week last year.
Prices rose in every region except for New England, where they fell 0.5 cent to $3.907. Elsewhere, the West Coast saw the biggest increase, as prices climbed 10 cents to $4.01; in California, prices remained the nation's highest, climbing 7.6 cents to $4.053. The Rocky Mountains saw the smallest increase, 5.7 cents, to $3.885. The Gulf Coast retained the nation's lowest price, $3.726, even though prices there rose 7.5 cents.
Complete diesel price information is available on EIA's Website.