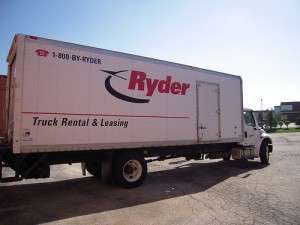 Ryder System Inc., a provider of transportation and supply chain management solutions, on Tuesday, Oct. 25, reported earnings from continuing operations of $56.9 million for the three-month period ended Sept. 30, up 44 percent from $39.7 million in the year-earlier period. The Miami-based company said the increase primarily reflects strong organic growth in commercial rental, the benefit of acquisitions and improved used vehicle sales results.
Total revenue was $1.57 billion, up 19 percent from $1.32 billion, reflecting the benefit of acquisitions and organic growth. Operating revenue – revenue excluding Fleet Management Solutions fuel and all subcontracted transportation – was $1.26 billion, up 17 percent compared with $1.07 billion. Fleet Management Solutions business segment total revenue increased 16 percent due primarily to higher operating revenue and fuel services revenue. FMS operating revenue increased 12 percent due to the benefit of acquisitions and higher commercial rental revenue.
In the company's Supply Chain Solutions business segment, total and operating revenue increased 26 percent, largely reflecting the favorable impact of an acquisition. Dedicated Contract Carriage business segment total revenue increased 31 percent, and operating revenue increased 26 percent, primarily reflecting an acquisition and the pass-through of higher fuel costs.
"We exceeded our own expectations for the third quarter in an uncertain slow-growth business environment by delivering on our targets within Fleet Management Solutions and exceeding our plans in Supply Chain Solutions," said Greg Swienton, Ryder chairman and chief executive officer. "We generated a very strong operating revenue increase of 17 percent, as well as earnings growth of 46 percent, reflecting both acquisitions and organic growth."
Swienton said Ryder's acquisition teams have contributed to the company's performance by successfully integrating operations and transitioning newly acquired customers. "Even in this tenuous economic environment, Ryder delivered double-digit revenue growth and a more than 50 percent increase in earnings through the first nine months of 2011," he said.