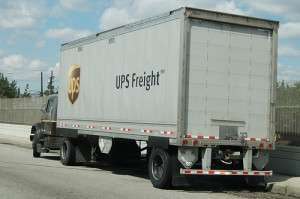 UPS on Tuesday, Oct. 25, announced net income of $1.04 billion for the 2011 third-quarter period, up from $991 million during the prior-year period. Total revenue increased 8 percent from $12.2 billion to $13.2 billion. During the quarter, UPS delivered 965 million packages, an increase of 0.7 percent over the prior-year period.
The Atlanta-based company said results were driven by the U.S. Domestic and Supply Chain & Freight segments. U.S. Domestic operating margin improved to 13.1 percent compared to last year's adjusted results, and Supply Chain and Freight operating profit increased more than 10 percent. Free cash flow for the first nine months of the year was strong, exceeding $3.7 billion.
"UPS produced another solid quarter of earnings growth against the backdrop of a deceleration in exports from Asia and a challenging global economic environment," said Scott Davis, UPS chairman and chief executive officer. "The resilience of our global model was evident during the quarter, and we remain confident in our ability to perform in both good and bad economies."
Supply Chain and Freight operating profit for the third quarter climbed more than 10 percent from $177 million to $195 million on revenue growth of 5.3 percent to $2.34 billion compared to the prior-year period from $2.23 billion. The operating margin for the segment increased 30 basis points from 8.0 percent to 8.3 percent.
UPS Freight drove segment results as operating profit improved and operating margin expanded. On a year-over-year basis, revenue for the quarter jumped about 15 percent on a slight decline in daily shipments. The business also experienced increases in less-than-truckload revenue per hundredweight and weight per shipment. Forwarding revenue experienced downward pressure compared to the same quarter last year due to excess capacity in the air freight industry. Nonetheless, Forwarding expanded operating margin and slightly improved operating profit.
"We are reiterating our 2011 guidance for UPS adjusted diluted earnings per share to a range of $4.15 to $4.40," said Kurt Kuehn, UPS chief financial officer. "UPS continues to deliver strong financial results in today's global economic environment."