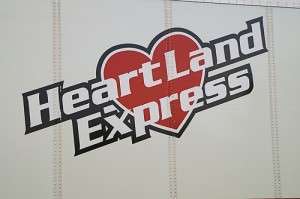 Heartland Express Inc. on Tuesday, Oct. 25, announced operating revenues for the third quarter ended Sept. 30 increased 4.2 percent to $132.5 million from $127.2 million in the third quarter of 2010. Net income was $15.4 million compared to $18.3 million, a 15.8 percent decrease. The North Liberty, Iowa-based company posted an operating ratio of 81.0 percent.
Operating revenues for the nine-month period increased 7.3 percent to $397.4 million from $370.3 million in the 2010 period. Net income was $52.8 million compared to $46.8 million, a 12.8 percent increase. The company posted an operating ratio of 79.9 percent.
Heartland said operating results continued to be impacted negatively by a combination of tight driver availability and escalating fuel prices. The company said it took delivery of 196 new International ProStar Plus tractors in the third quarter and expects to purchase 329 additional new trucks during the remainder of the year. Heartland said it also took delivery of 715 new Great Dane and Wabash trailers during the quarter, and that it sold 866 trailers during the third quarter and has sold a total of 2,453 trailers through the first nine months of the year.