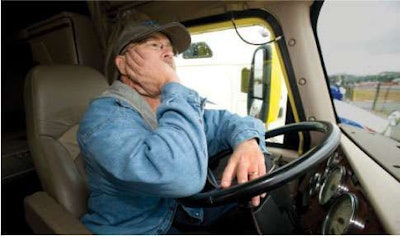 A proposal that would tie sleep apnea screening with body mass index emerged from a meeting Wednesday, Dec. 7, of Federal Motor Carrier Safety Administration safety and medical groups.
Under a guidance supported by FMCSA's Motor Carrier Safety Advisory Committee and Medical Review Board, medical examiners would refer for evaluation for obstructive sleep apnea any interstate commercial driver with a BMI measurement of 35 or above. A 6-foot-tall 258-pound driver has a BMI of 35.
The guidance comes on the heels of three separate sets of recommendations the agency has received in recent years with varying screening specifications, typically involving a BMI measurement between 30 and 35 and other criteria, including several risk factors.
A second guidance immediately would disqualify drivers meeting any of five criteria:
1. Having reported excessive daytime sleepiness.
2. Having had an accident associated with falling asleep.
3. Exhibiting apnea-hypopnea index (AHI) scores of 20 or greater until they've had effective treatment.
4. Having had surgery to correct apnea and awaiting post-operative evaluation.
5. Individuals who have been found to be effectively noncompliant with their treatment.
Both short-term guidances are intended as stopgaps until further new rulemaking officially codifies sleep disorders into the regulations, with a draft to emerge from a MCSAC and MRB joint subcommittee as early as February.
Medical experts at the daylong meeting made a case for the correlation between drivers with moderate to severe sleep apnea and increased crash risk.
Todd Spencer, Owner-Operator Independent Drivers Association executive vice president, noted the wide prevalence of risk factors for apnea among commercial drivers. "If these staggering numbers have some real live applications," Spencer asked, "why don't highways all over America look like war zones today?"
Charles Czeisler, director of Harvard Medical's Division of Sleep Medicine, argued that "it is actually a war zone out there." He cited statistics for all drivers – not just truckers – showing that 20 percent of all crashes are related to drowsy driving, with two million drivers a week in the United States nodding off and falling asleep at the wheel. With fatalities related to drowsy driving occurring once every 70 minutes on average, "that's equivalent to two 9/11 events every year," he said.
Czeisler was a member of the Medical Expert Panel to FMCSA on the OSA condition. None of the group's recommendations has been acted upon by FMCSA, and Czeisler chided the agency for its lack of action on the condition after nearly 30 years of recommendations that it move forward.
Czeisler recommended BMI of 30 or greater as a better ultimate screening requirement and would require drivers with moderate to severe apnea to be disqualified from driving until being treated and proving that treatment is working.
Chicago-based Sleep Specialist Andrew Mouton presented an alternative point of view on screening requirements, emphasizing the variability in individual apnea cases. Mouton believes the current respiratory regulation 391.41(b)(5) provides a decent model for a possible sleep disorder regulation.
"The individual has to be referred to a specialist if an examiner detects a dysfunction," Mouton said. "It doesn't specify that you have to have a particular test. I think you could switch a few words around to get an excellent guide of how to pursue sleep disorders."
Both Spencer and American Trucking Associations' Rob Abbott took issue with some of the data presented. Abbott, characterizing some of the data's potential to be inaccurate or misleading and in need of further study, stressed the need to "hash that out in a public comment period."
The proposed guidance ultimately would be put up for public comment, said FMCSA's Larry Minor.