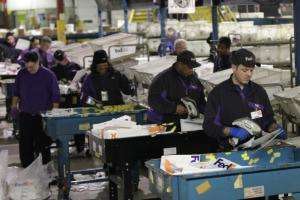 FedEx Corp. says its facilities and team members will be buzzing on Monday, Dec. 12, as the company reaches what is projected to be its busiest day in its nearly 40-year history. Company forecasters expect FedEx will move about 17 million shipments – almost double its daily average volume – through its global networks on that day. To handle the surge, FedEx has added 20,000 seasonal positions at FedEx Ground, FedEx Home Delivery and FedEx SmartPost and is offering additional shifts to current team members working at facilities across the country.
"There's an extraordinary amount of technology and precision that is in place at FedEx to ensure packages get to their destinations before Christmas," says John Dunavant, vice president of the FedEx Express World Hub in Memphis, Tenn. "At the Memphis hub alone, we will see up to three million packages speed down 42 miles of conveyor belts on our busiest December day, each one scanned an average of 23 times to ensure we know where our customers' shipments are at any given time. And as busy as we are in Memphis, FedEx hubs and stations around the world are feeling the holiday surge as well."
FedEx says its "busiest day" volumes and network capacity has jumped nearly 75 percent since Christmas 2005. Between Thanksgiving and Christmas Day, FedEx forecasts a year-over-year increase largely driven by FedEx SmartPost, a residential shipping service designed for online and catalog retailers, as well as expected increased volume at FedEx Ground and FedEx Home Delivery.