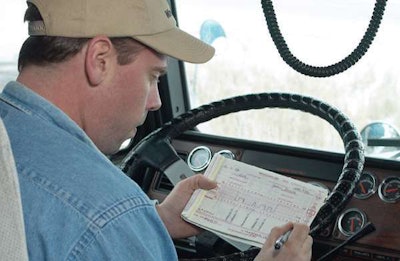 The White House Office of Management and Budget has finished reviewing the final rule for truck drivers' hours of service, meaning the U.S. Department of Transportation and the Federal Motor Carrier Safety Administration could publish the rule at any time. FMCSA said in a court filing Monday, Nov. 28, that it had expected to issue the final rule within 30 days.
The American Trucking Associations said at the time that it hoped the agency would "use the extra time to consider the overwhelming input it has received from thousands of drivers and law enforcement officers that the current rule is working. There's no need to break something that's not broken." ATA President and Chief Executive Officer Bill Graves also wrote a letter to Cass Sunstein, OMB's administrator of Information and Regulatory Affairs, questioning whether "legitimate reason" existed to change the current rules.
Under the current proposal, FMCSA is, among other changes, considering whether to reduce the daily driving limit from 11 hours to 10 hours and has proposed to limit the 34-hour restart provision by requiring that it include two periods from midnight to 6 a.m. and limiting its use to once per week. ATA and the Owner-Operator Independent Driver Association have said the proposal is costly and unnecessary since studies indicate safety improvements under the 2008 rule.
In 2009, FMCSA had entered into a settlement agreement with safety advocacy groups and the Teamsters union to revisit the 2008 rule and publish a revised rule. This agreement stipulated if the agency produces a "substantially different" rule from the current one, this "may" eliminate the need for further judicial review. FMCSA initially faced a July 26 deadline to publish the rule but since has been granted a series of extensions by the court.
At a Nov. 30 hearing on hours of service before the House Oversight and Government Reform Committee's Subcommittee on Regulatory Affairs, trucking industry advocates testified that the proposed revisions to the rule would lead to higher operating costs that would have to be passed along to customers and consumers.
Ed Nagle, chief executive officer of Toledo, Ohio-based Nagle Companies, testified that the revised rule would cut the refrigerated carrier's ability to generate revenues by 17 percent. "For every truck, we need to generate $4,500 per week plus fuel to meet fixed overhead," Nagle said.
U.S. consumers would pay higher food prices if the proposed changes become law, testified Glen Keysaw, executive director of transportation and logistics of Associated Food Stores Inc., a Salt Lake City-based retail cooperative. "This industry operates on a razor-thin margin," said Keysaw, adding that food stores would pay 3 percent more for shipping. "Any increase in operating costs will have to be passed on to customers in the form of higher prices."
In an Oct. 5 letter to President Obama, House Speaker John Boehner and Majority Leader Eric Cantor said the proposed hours-of-service revision should be withdrawn because its costs would hurt the U.S. economy. "Current rules have led to record low levels of crashes and fatalities involving trucks," Boehner and Cantor wrote, adding that the White House and Congress should work together to prevent a potential "$1 billion in regulatory burden."
Their letter came two weeks after a similar Sept. 23 letter to Obama from House Transportation Committee Chairman John Mica. The Florida Republican wrote that the proposed rule would be an unnecessary and costly regulatory burden on truckers given the improved record of truck safety since the 2008 rule became effective.
Three other Republican committee members signed Mica's letter: Tennessee's John Duncan, highway subcommittee chairman; Pennsylvania's Bill Schuster, chairman of the railroads, pipelines and hazardous materials subcommittee; and Missouri's Sam Graves, committee member and Small Business Committee chairman. Should FMCSA proceed with the new rule, the four House members would weigh options that could include hearings or legislation.
On Aug. 30, Obama responded to Boehner's request to review pending regulations with compliance costs of more than $1 billion. Seven proposed rules qualified, including the HOS proposal at more than $1 billion and electronic onboard recorders at $2 billion. Soon after issuing that list, Obama withdrew the U.S. Environmental Protection Agency's ozone proposal, which would have been by far the costliest at $19 billion to $90 billion.