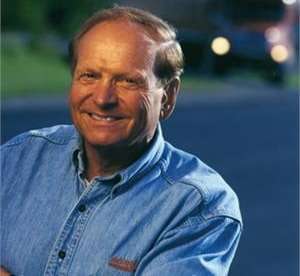 Donald J. Schneider, chairman emeritus and former president and chief executive officer of Schneider National Inc., died Friday Jan. 13, following a lengthy and courageous battle with Alzheimer's disease. He was 76.
Schneider was born in 1935, the same year his father, Al (AJ), sold the family car to buy his first truck, a purchase that laid the groundwork for what would become, under Don's leadership, one of the largest transportation and logistics companies in North America.
"The transportation and logistics industry has lost one of its most passionate and influential voices," says Bill Graves, president and chief executive officer of the American Trucking Associations. "Don Schneider was a visionary, bringing business acumen and technology to blaze a trail and set the standard in the modern-day development of our industry."
Don started working for the family business while in high school in the early 1950s, first as a mechanic's helper and then as a truck driver. He continued in this capacity while attending St. Norbert College in De Pere, Wis., in the late 1950s, using the job to fund his college education. He graduated with an undergraduate degree in business and married his wife, Patricia (Pat) O'Brien, in 1957.
After serving a 13-month military tour of duty in Korea, he returned to the United States and enrolled in graduate school at the Wharton School of Business at the University of Pennsylvania. Upon earning his master's degree, he returned to the Green Bay area in 1961 to join his father's trucking company as a manager. He also taught finance at his alma mater, St. Norbert College, during this time. In 1976 Don officially became president of the then-$82 million company. His father, Al, passed away in March 1983.
Schneider led the organization bearing his family's name for more than 25 years. During that time, the company grew, survived and thrived during some of the modern trucking industry's greatest challenges, including deregulation in the early 1980s. Schneider brought both business savvy and a keen ability to anticipate customer needs to the business.
Don's commitment to technological innovation was instrumental to the company's success, including adopting satellite-based communications and positioning in its trucks. Schneider was a pioneer in providing intermodal and logistics services; in 1993, Schneider founded Schneider Logistics as a wholly owned subsidiary of Schneider National. He formed Schneider Communications, a regional telecommunications company, in 1982.
Schneider retired from the day-to-day responsibilities in 2002, selecting then-chief operating officer Chris Lofgren to succeed him as president and CEO. Don continued on as chairman of the board for the privately held firm until 2007 when he reached the board's mandatory retirement age.
"Don Schneider was one of the finest individuals I have ever known," says Lofgren. "He was true to his convictions and committed to his values. I will be forever grateful that I had the opportunity to work for and be mentored by Don. He entrusted our management team to continue his vision of providing exceptional transportation and logistics services at a fair price, while enhancing the standard of living worldwide. Our Schneider National family of associates shares our deepest sympathies with his wife, Pat, and the entire Schneider family during this sad time."
Schneider shared his time and talents with a wide range of academic, industry, business and community organizations. Most notably, he served as chairman of the Business Advisory Committee for Northwestern University's Transportation Center, was a member of the advisory board for the Kellogg Graduate School of Management, was a director on the Federal Reserve Board in Chicago and served on the board of directors at Fort Howard Paper Co. and Franklin Electric. He also was a member of the Board and Executive Committee of the Green Bay Packers and sat on the board of trustees for St. Norbert College.
Schneider was also an active philanthropist in the Green Bay area, having chaired both the capital campaign for Notre Dame Academy and the annual campaign for United Way of Brown County and provided the lead gift for the St. Norbert College athletic complex – Donald J. Schneider Outdoor Athletic Complex – in 2008. In 1982 Schneider founded the company's charitable arm, the Schneider National Foundation, to bring about positive change in the communities where his associates live and work. The foundation has donated millions of dollars and thousands of volunteer hours to charities in need since its founding.