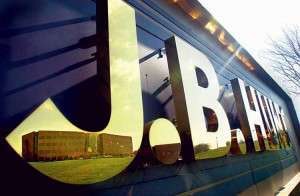 J.B. Hunt Transport Services Inc. on Thursday, Jan. 26, announced fourth-quarter 2011 net earnings of $72.6 million vs. fourth-quarter 2010 net earnings of $57.9 million. Total operating revenue was $1.2 billion compared with $1.02 billion, with all four segments contributing.
Load growth of 17 percent in Intermodal (JBI) helped drive a 24 percent increase in segment revenue. Dedicated Contract Services (DCS) increased operating revenue by 9 percent primarily from new accounts. Truck (JBT) and Integrated Capacity Solutions (ICS) increased revenue 8 percent and 19 percent, respectively, due to higher rates and an increase in fuel surcharges. Current quarter total operating revenue, excluding fuel surcharges, increased 12 percent.
Operating income increased to $122 million vs. $97 million primarily from the higher revenue on greater load volumes, a reduction in insurance and claims costs, and continued improvement in other general cost controls. Again, all four segments contributed to this increase in operating income with JBI and DCS accounting for nearly $22 million.
Net earnings rose 25 percent to $72.6 million from $57.9 million, primarily due to the growth in revenue, effective cost controls and a lower cost of borrowing. Net interest expense in the current quarter was down $2.0 million primarily due to a reduction in average interest rate. The effective income tax rate was 37.5 percent compared with 35.1 percent, which included the favorable resolution of uncertain tax positions in the prior-year quarter.
"We are very pleased to close out the year with record revenues, net earnings and earnings per share in both the fourth quarter and the entire year of 2011," said John N. Roberts, president and chief executive officer of Lowell, Ark.-based J.B. Hunt. "All four segments improved from 2010 in the fourth quarter and full year. During 2011, we began implementing improvements to the approach we take with our larger, more complex customers, and we are satisfied so far with the results of these efforts."
Roberts said the primary objective in collaborating with customers is to find new ways to integrate J.B. Hunt's complementary business segments to drive out cost and create efficiency. "We will continue to invest in customer-centric services that produce sufficient rates of return and sustainable cycles of cash for further reinvestment and innovation in transportation solutions," he said.