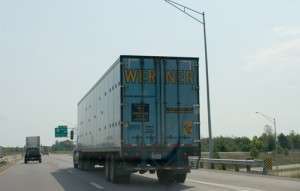 Werner Enterprises on Thursday, Jan. 26, announced annual earnings in excess of $100 million for the first time in its history. Fourth-quarter 2011 was the eighth consecutive quarter in which Werner achieved year-over-year earnings growth in excess of 20 percent.
For the fourth quarter of 2011, revenue was $508 million compared to $463 million for the fourth quarter of 2010, and net income was $29 million compared to $24 million. For 2011, revenue was $2 billion compared to $1.8 billion in 2010, and net income was $103 million compared to $80 million.
"We are very appreciative of our customers' support and sincerely thank all of our associates for their dedication, commitment and hard work in passing this mile marker on the road to improving results," the Omaha, Neb.-based company said. "With a comprehensive portfolio of superior service offerings, a newer truck fleet, an outstanding team of associates and a strong financial position, we are excited about the prospects for 2012 and beyond."
The company said fourth-quarter 2011 freight demand was better than fourth quarter 2010 and showed more traditional seasonal trends. "We continue to believe that favorable truckload demand trends are caused to a greater degree by supply-side constraints limiting truckload capacity, as compared to growing demand generated by increased economic activity," Werner said.
According to Werner, the driver recruiting and retention market became more challenging during fourth-quarter 2011. "Assuming the domestic economy strengthens in 2012, we anticipate the driver market will become even more challenging in 2012," the company said.