Following its construction in a record time of about 24 months, the new state-of-the-art production plant of the wholly owned Daimler subsidiary, Daimler India Commercial Vehicles Pvt. Ltd., has been completed in Oragadam-Chennai. In presence of members of the Daimler AG board of management and J Jayalalithaa, chief minister of the state Tamil Nadu in South India, DICV inaugurated the around 160-hectare manufacturing site along with the integrated research and development center and the state-of-the-art test track at a festive ceremony held Thursday, April 19. The plant is one of only three Daimler truck plants worldwide to combine truck assembly and components production at one location.
The total investment of DICV is 44 billion Indian rupees (over €700 million) including the manufacturing facility for BharatBenz brand trucks as well as research and development. The start of production of the BharatBenz heavy-duty trucks is scheduled for the third quarter of 2012.
I"Our new Oragadam-Chennai plant shares Daimler's stringent quality standards with its sister plants around the world and is unique at the same time," said Dr. Dieter Zetsche, chairman of the board of Management Daimler AG and Head of Mercedes-Benz Cars. "It is the only Daimler plant in the world that houses products which combine Indian engineering with German and Japanese DNA under a single roof. This way, we are optimally positioning ourselves for one of the world's strongest and fastest-growing truck markets."
The facility in Oragadam-Chennai will produce the versatile BharatBenz product range for the Indian volume market. While some BharatBenz truck models are based on the Mercedes-Benz Axor platform, others are built on the Fuso Canter series. The plant in Chennai has an initial production capacity of 36,000 units per year and is designed to allow an increase up to more than 70,000 commercial vehicles per year.
"DICV is an outstanding example of Daimler Trucks' Global Excellence strategy," said Andreas Renschler, Daimler Board of Management member responsible for Daimler Trucks and Daimler Buses. "Our worldwide production network and our global research and development efforts enable us to develop, manufacture and sell trucks in India, for India. We do all of this in close proximity to our customers, for our customers."
Renschler said BharatBenz trucks are robust and reliable vehicles for the modern domestic segment, which illustrates the consistently increasing demands of the Indian customers. This segment currently accounts for four percent of all trucks in India, but this figure is expected to rise to almost 80 percent by 2020. With a product portfolio of 17 BharatBenz commercial vehicles by 2014, DICV is preparing for the promising Indian truck market, which has developed into the world's third-largest market with a volume of more than 330,000 vehicles in the weight classes of 5 to 49 tonnes in 2011.
To benefit from India's market potential in the commercial vehicle segment, the plant in Oragadam-Chennai was built for the future local production of BharatBenz trucks. "Filled with pride and joy, I dedicate today's plant opening to the employees of Daimler India Commercial Vehicles," said Marc Llistosella, chief executive officer and managing director of DICV. "Our work force is primarily Indian and has steadily increased to include more than 1,400 employees today."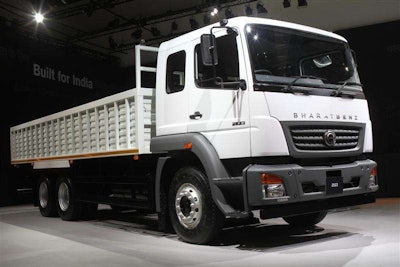 Llistosella added, "Our focus on localization has resulted in more than 40 percent of our suppliers being located within a 40-kilometer radius of the plant. Overall, our BharatBenz trucks will have a localization rate of 85 percent in India."