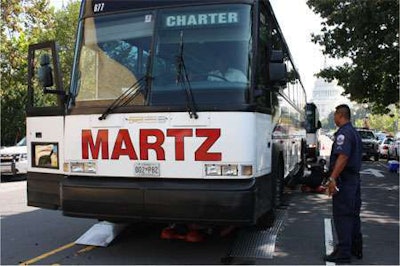 The Federal Motor Carrier Safety Administration on Thursday, May 17, announced that the agency and its state and local law enforcement partners this week are conducting safety inspections of motorcoaches, tour buses, school buses and other commercial passenger buses in 13 states and the District of Columbia.
Beginning May 11 and running through May 20, inspections are being held in New York, New Jersey, Pennsylvania, Vermont, Maryland, Virginia, Delaware, Massachusetts, Rhode Island, New Hampshire, Maine, Connecticut, West Virginia and the District of Columbia.
"Especially during the peak spring and summer travel seasons, we are working hard to remove any bus or driver that places passengers and other motorists at risk on the road," said U.S. Transportation Secretary Ray LaHood.
As part of the inspection process, law enforcement officers are checking buses for any mechanical problem, such as brakes, lights and engine defects. Bus drivers also are inspected to ensure they are operating in full compliance with hours-of-service, medical fitness, commercial driver's license and other federal safety rules.
"Rain or shine, at any given location, federal, state and local police are on the ground conducting bus safety inspections that ultimately help save lives," said FMCSA Administrator Anne Ferro. "Our goal is to make bus travel as safe as possible – every trip, every time."
FMCSA said that over the past five years, the agency has doubled the number of bus inspections and comprehensive safety reviews of the nation's estimated 4,000 commercial passenger bus companies; roadside motorcoach inspections have increased nearly 100 percent, from 12,991 in 2005 to 25,705 in 2010, while compliance reviews are up 128 percent, from 457 in 2005 to 1,042 in 2010. FMCSA said it placed 54 unsafe companies out of service in 2011.