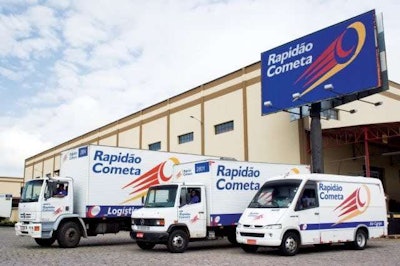 FedEx Corp. on Tuesday, May 29, announced that it has signed an agreement to acquire Brazilian transportation and logistics company Rapidão Cometa Logística e Transportes S.A. FedEx said the acquisition, terms of which were not announced, will further enhance its international and Brazil business offerings and continue a long-term commitment to the growing Latin American region.
Rapidão Cometa has been one of FedEx's authorized representatives in Brazil for the past 11 years. FedEx said the acquisition – set to close in the third quarter of 2012 – will afford FedEx Express's customers access to Rapidão Cometa's nationwide domestic transportation and logistics network. FedEx said the integration of the logistics, distribution and express businesses of Rapidão Cometa will be achieved in phases over a period of 18 to 24 months after closing.
"We are delighted that Rapidão Cometa will be joining FedEx Express," said Juan N. Cento, president, FedEx Express, Latin America and Caribbean. "Brazil is a market with tremendous growth potential – both in the overall economy, as well as in the logistics sector. The acquisition of Rapidão Cometa – one of the largest logistics solutions providers in Brazil – is in line with our long-term strategy to grow our Latin American business and better serve our customers seeking to enter or expand their businesses in the Brazilian market. FedEx will now be able to provide a more comprehensive portfolio of services in Brazil, including international air express, domestic ground and value-added services such as supply chain and logistics solutions."
The acquisition includes:
• 45 operational branches and about 145 distribution points;
• About 770 vehicles and trailers;
• Logistics and distribution, which consists of a wide range of products and services;
• A ground distribution network that provides day-definite transportation for small packages and heavyweight shipments; and
• About 9,000 employees across Brazil. With the acquisition, FedEx Brazil employees will total more than 9,500.
FedEx said Rapidão Cometa customers will have direct access to its international network connecting more than 220 countries and territories worldwide, enhancing customers' business flexibility and speed to market.