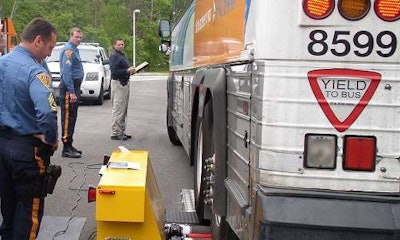 The Federal Motor Carrier Safety Administration on Thursday, May 31, announced the largest single safety crackdown in the agency's history – the shutdown of 26 bus operations, declaring them imminent hazards to public safety. Additionally, FMCSA ordered 10 individual bus company owners, managers and employees to cease all passenger transportation operations, which includes selling bus tickets to passengers. The bus companies transported more than 1,800 passengers a day along Interstate 95 from New York to Florida.
"These aggressive enforcement actions against unsafe bus companies send a clear signal – if you put passengers' safety at risk, we will shut you down," said U.S. Transportation Secretary Ray LaHood. "Safety is and will always be our highest priority."
Following a yearlong investigation, FMCSA shut down three primary companies – Apex Bus Inc., I-95 Coach Inc. and New Century Travel Inc. – that oversaw a broad network of other bus companies. The 26 shutdown orders apply to one ticket seller, nine active bus companies, 13 companies already ordered out of service that were continuing to operate, and three companies attempting to apply for operating authority. The various companies are based out of Georgia, Indiana, Maryland, New York, North Carolina and Pennsylvania.
FMCSA said federal safety investigators found all of the carriers had multiple safety violations, including a continuous pattern of using drivers without valid commercial driver's licenses; failure to have alcohol and drug testing programs; operating vehicles that had not been inspected and repaired regularly; and drivers with hours-of-service and qualification violations.
"The egregious acts of these carriers put the unsuspecting public at risk, and they must be removed from our highways immediately," said FMCSA Administrator Anne Ferro. "With the help of multiple state law enforcement partners, we are putting every unsafe bus and truck company on notice to follow the safety laws or be shut down."
FMCSA said that in addition to the imminent hazard orders, the agency is taking further steps to ensure the bus companies cannot continue to operate under other names. Under a new FMCSA rule, FMCSA has revoked the carriers' operating authority and linked the active companies to other companies previously placed out of service.
This new rule, published in April, expands FMCSA's authority to take action against unsafe motor carriers that attempt to evade enforcement by "reincarnating" into other forms or continuing their operations illegally through affiliate companies. FMCSA said it will continue to work closely with local, state and federal law enforcement officials to ensure these companies remain out of service.
FMCSA said it began investigating the network of carriers operating along I-95 following a series of deadly bus crashes last spring. FMCSA ordered several bus companies to shut down last summer after a comprehensive compliance review of their operations; the investigation of those operators uncovered additional problems and serious safety violations with other I-95 carriers, and since that time, FMCSA investigators have been working to establish the links between the bus networks.