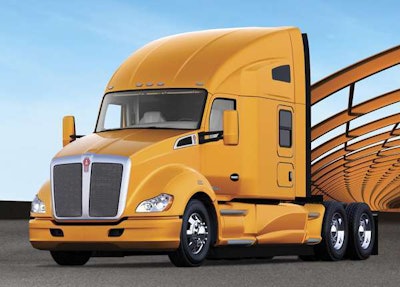 Kenworth Truck Co. on Thursday, May 31, announced that its new aerodynamic T680 tractor has begun production at the company's assembly plant in Chillicothe, Ohio.
"The Kenworth T680 has received a very positive response from fleets and truck operators," said Gary Moore, Kenworth general manager and Paccar vice president. "Customers are drawn to the T680's superior fuel efficiency, outstanding performance, extraordinary comfort and exceptional styling. The beginning of T680 production is a landmark moment for Kenworth, its employees and its dealers."
Moore said that with a lineup of the T660, T680 and T700, "Kenworth's aerodynamic on-highway truck offering has never been stronger." Each aerodynamic model features a different cab width; the T660, T680 and T700, respectively, measure 1.9, 2.1 and 2.3 meters.
The Kenworth-Chillicothe plant recently hosted a special celebration for employees to mark the start of T680 production. "We're excited to begin building production Kenworth T680s," said Scott Blue, plant manager at Kenworth's Chillicothe facility. "Employees at the facility are trained and ready to assemble this world-class truck."
The T680 is designed to maximize performance in linehaul, pickup-and-delivery and regional hauling operations. Available with a 76-inch sleeper or daycab configuration, the T680 is standard with the fuel-efficient 12.9-liter Paccar MX engine and optional with the Cummins ISX15 engine.