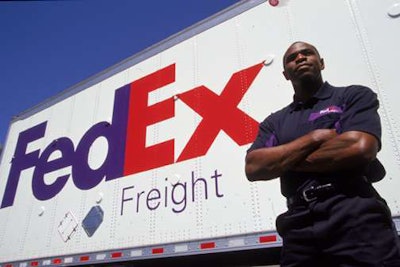 FedEx Corp. on Tuesday, June 19, reported earnings of $550 million for the fourth quarter of the company's fiscal 2012 year ended May 31, which includes an aircraft impairment charge at FedEx Express. Excluding this charge, earnings were $634 million compared to $558 million for the same period a year ago. Revenue was $11.0 billion compared to $10.6 billion.
For the full fiscal year, earnings were $2.03 billion including the aircraft charge. Excluding this charge, earnings were $2.09 billion compared to $1.45 billion reported for the same period a year ago and $1.56 billion prior to freight costs and legal reserve expenses. Revenue was $42.7 billion compared to $39.3 billion.
"FedEx delivered strong earnings results for fiscal 2012 due to the outstanding performance by FedEx Ground, our new value proposition at FedEx Freight and improved yields across all transportation segments," said Frederick Smith, FedEx Corp. chairman, president and chief executive officer. "In fiscal 2013, we will continue our focus on improving our operating efficiencies and our financial performance across all of our businesses, while simultaneously enhancing our service capabilities. We remain absolutely committed to higher earnings, margins, cash flows and returns."
For the fourth quarter, the FedEx Freight segment reported revenue of $1.40 billion, up 7 percent from last year's $1.31 billion; operating income of $81 million, up 93 percent from $42 million; and an operating margin of 5.8 percent, up from 3.2 percent.
Operating income and margin increased primarily due to higher yield, volume growth and continued improvements in operational efficiencies. Less-than-truckload average daily shipments increased 4 percent due to an increase in customer demand for the company's service offerings, enhanced service levels and modest economic improvement. LTL yield increased 4 percent due to higher fuel surcharges and base yield improvement.
The company previously announced that effective July 9, FedEx Freight will increase U.S. and certain other shipping rates by 6.9 percent. FedEx Freight also will be making some adjustments to its network on July 9 intended to drive incremental operational efficiencies.
"We are focused on improving margins in all businesses, although we face certain cost increases in fiscal 2013," said Alan Graf Jr., FedEx Corp. executive vice president and chief financial officer. Graf said those headwinds include higher employee-related costs, including higher pension expenses of about $150 million, as well as higher depreciation costs. "We expect to mitigate these challenges by reducing costs and improving efficiencies, and are continuing to evaluate additional actions to substantially improve FedEx Express margins," he said.