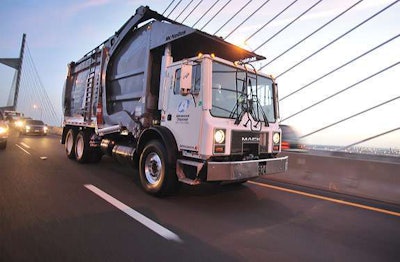 Advanced Disposal Services last week broke ground on its first compressed natural gas fueling station, located in Ball Ground, Ga. The station, being built by Vocational Energy, will help Advanced Disposal service Gwinnett County and the city of Roswell, both near Atlanta.
Advanced Disposal, headquartered in Jacksonville, Fla., is the fourth-largest privately owned environmental services company in the country and services close to 800,000 customers with a fleet of 900 trucks. Their shift to natural gas is one that supports their mission of environmental responsibility.
"We believe that environmental sustainability is of utmost importance," said Katrine Strickland, Advanced Disposal's marketing manager. "We're always looking for ways to green our fleet and to be more environmentally efficient. It just made sense from all angles. We feel like it is the next step in keeping the Atlanta area clean and green for generations to come."
Scott Edelbach, president of Vocational Energy, said the new station will be one of several for Advanced Disposal throughout the Southeast. Strickland said the station will have the capacity to fuel up to 95 natural-gas powered vehicles in 10 hours, of which 27 are currently on order. The initial price tag for the station and vehicles is $22 million.
"I know a good deal of research went into this decision," said Strickland. "The CNG engines burn cleaner and are solely from domestic sources reducing our dependency on foreign oil." Strickland said other cities within their coverage areas have expressed interest in migrating to natural gas as well.