With Con-way Truckload Recruiting manager Gretchen Jackson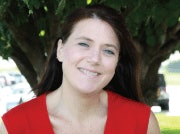 Location: Joplin, Mo.
DRIVERS HIRED PER WEEK: 35
TOTAL DRIVERS: 3,000
TOTAL TRACTORS: 2,700
TRAILERS OPERATING IN U.S., MEXICO, CANADA: 8,000
Con-way Truckload hires heroes
RECRUITING MILITARY VETS PAYS OFF FOR BOTH COMPANY AND DRIVER
Gretchen Jackson, recruiting manager for Con-way Truckload in Joplin, Mo., heads up driver recruiting and says their commitment to connecting military veterans with job opportunities pays off for both company and driver. Con-way Truckload, an operating company of Con-way Inc., provides expedited time-definite full-truckload transportation services across North America and has received numerous prestigious awards honoring their veteran hiring and support of employees in the National Guard and Reserve.
400,000 U.S. military leave the service every year.
Why do you think veterans make good truck drivers?
Veterans are disciplined, hard-working and used to working in challenging environments away from home – all traits that increase the odds of a professional driver's success.
How many drivers have a military background?
Eight percent of our work force is made up of veterans, and last year we hired nearly 300 veterans or returning military personnel. Veterans come into the trucking industry already somewhat familiar with this type of job from their experiences in the military. They know what to expect, and they like that type of work.
How do you find your recruits?
We attend military job fairs, post our positions on military job boards and place adds in military magazines. One of the best sources of great military drivers is through word-of-mouth. We get good referrals from military and professional drivers.
Do you feel like the other employees are proud of Con-way's commitment to the returning veterans?
I think our non-military employees are proud that Con-way Truckload encourages returning veterans to pursue careers with us.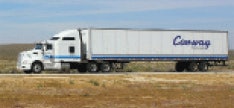 Our military personnel give so much to our country, and it's the least we can do for those veterans. We foster a culture that encourages employees to learn from their co-workers, and the values former military personnel hold dear are wonderful values we could all learn from. Our commitment to the National Guard and Reserves generates goodwill.
You recently received the Governor's Flag of Freedom Award. What has that meant to the company?
We were honored. We hope the recognition will show other employers the value of hiring returning veterans.
Con-way Truckload's military-focused programs
Military Apprenticeship Program – 160-hour driver training course via GI Bill, Con-way Boot Camp, 7,500 miles with a Con-way Driver Finisher
Military Apprenticeship Program – 200-hour driver training course at Crowder College using Truckload's Tuition Assistant Program and Driver Finisher for 7,500 miles
Previous or recent military driving experience – Attends driver certification program in Joplin, Mo., and then drives alongside a Driver Finisher for 7,500 miles