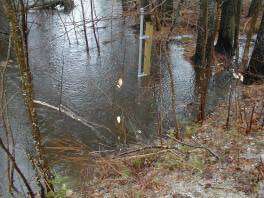 The U.S. Department of Transportation has made $500,000 in quick-release emergency funds available immediately to the Maine Department of Transportation to help repair roads damaged by floods as the result of heavy rains in early June.
"Travel in Maine was disrupted because of recent flooding and subsequent damage to roads," said U.S. Transportation Secretary Ray LaHood. "This emergency relief funding will help the state recover the costs to make repairs and restore critical routes."
Maine suffered extreme runoff and flooding following heavy rains beginning on June 2. Route 136 in Durham, a major highway adjacent to the Androscoggin River, was flooded quickly. Several sections of slope failed once the water receded. Highways in several other towns suffered damage as well.
Maine DOT estimates that overall damage to federal-aid highways from these floods likely will exceed $2 million. "Maine worked hard to get things back to normal as quickly as possible, and we're committed to help the state get back on track," said Federal Highway Administrator Victor Mendez.
Quick release emergency funds provided by DOT's Federal Highway Administration will be used to reimburse the state for repairs that were done to resume essential traffic flow immediately after the flooding and prevent further damage. FHWA's emergency relief program provides funds for the repair or reconstruction of roads and bridges damaged by natural disasters or catastrophic events.