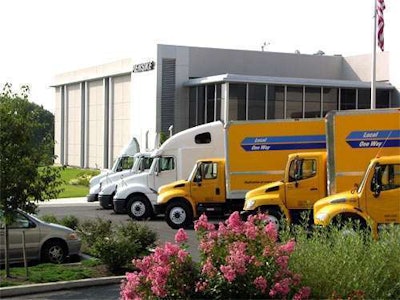 Penske Truck Leasing announced that its treasurer, Wayne Angelbeck, plans to retire in the first quarter of 2013 after 30 years of service with the company and that Scott Cebul will join the company as vice president and treasurer.
Prior to joining PTL, Cebul served as treasurer for Bloomfield Hills, Mich.-based Penske Corp. since 2009. He also served three years as Penske Corp.'s assistant treasurer. Prior to joining Penske Corp. in 2006, Cebul spent nine years with J.P. Morgan Chase, where he was vice president, treasury management officer and vice president, commercial relationship manager.
In a related move, PTL announced that Becky Nester was promoted to vice president of investor relations and assistant treasurer. Her primary responsibilities focus upon the non-bank lender community. She retains responsibility for overseeing PTL's treasury operations. Nester has been with PTL for 15 years serving in various financial leadership roles with primary responsibility for overseeing its financial planning and analysis functions and the preparation of annual and long-range financial business plans.
"We appreciate Wayne's many years of service and the important role he played in building our company into an industry leader," said Brian Hard, president and chief executive officer of Penske Truck Leasing. "We wish him all the best in his upcoming retirement. We are excited about the opportunity for Scott and Becky as they take on new and additional responsibilities and look forward to the contributions they will make to our future growth."