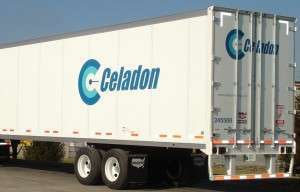 Celadon Trucking Services Inc. on Wednesday, Aug. 8, announced it has agreed to purchase a portion of the operating equipment of USA Dry Van Logistics, based in McAllen, Texas; terms were not disclosed.
Celadon said its approach is to increase its freight volume and density in its primary traffic lanes between the United States and Mexico and reinforce its driver pool. USA Dry Van is a provider of cross-border shipments of goods between Mexico and the United States, which will enable Celadon to fulfill one of its primary goals.
"USA Dry Van is a leading truckload carrier with respect to cross-border shipments between the U.S. and Mexico," said Paul Will, president and chief operating officer of Indianapolis-based Celadon. "Their footprint has tremendous potential to supplement the existing cross-border expertise for which Celadon is known and further accelerates our overall growth plans. Our companies also share a very similar, overlapping customer account base."
Will said Celadon expects to assimilate many of the overlapping customers, as well as a portion of the USA Dry Van driver pool, within its operations and improve asset productivity. "We believe we can enhance the service to many of USA Dry Van's former customers through upgraded equipment, advanced technology, additional assets available for dispatch and an industry-leading safety record," he said.