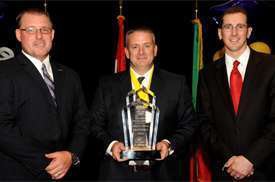 Fifty roadside inspectors representing jurisdictions across North America convened Aug. 6-9 in Minneapolis to compete in the Commercial Vehicle Safety Alliance's North American Inspectors Championship. This year, Christopher Smithen, a CVSA-certified North American Standard inspector from Nevada, was awarded the Jimmy K. Ammons Grand Champion Award.
"We are proud to recognize and reward each of our 50 roadside inspectors from across North America who not only demonstrate their professional excellence and dedication to highway safety but inspire others to do the same," said Stephen Keppler, CVSA executive director. "Their enthusiasm and passion goes a long way in advancing commercial vehicle safety and saving lives due to the information, techniques and experiences they will share with others in furtherance of improving uniformity in the enforcement of highway safety standards across the continent."
Smithen was recognized for his combined performances in six competition elements: 1. North American Standard Level I Inspection; 2. North American Standard Level I Inspection Procedures; 3. North American Standard HazMat/Transportation of Dangerous Goods Inspection; 4. North American Standard Cargo Tank/Other Bulk Packagings Inspection; 5. North American Standard Level V Passenger Vehicle (Motorcoach) Inspection; and, 6. North American Standard Out-of-Service Criteria Exam.
"The hard work of these dedicated law enforcement professionals makes a real difference," said David Palmer, CVSA president. "We owe a great debt of gratitude to our commercial vehicle inspectors for keeping trucks and buses operating safely on our highways. It is through NAIC that we honor these inspectors for their tireless commitment to highway safety and continuous improvement."
NAIC is hosted by CVSA, which credits the event's success to strong industry participation and sponsorship. For the past 20 years, the championship event has been held in partnership with the American Trucking Associations' National Truck Driving Championships. NAIC also has been recognized by the American Society of Association Executives as an event that "Advances America."
"The 2012 NAIC is a great opportunity for FMCSA to recognize the outstanding accomplishments of top safety inspectors from across the country," said FMCSA Administrator Anne Ferro. "Congratulations to all NAIC competitors for your achievement, and thank you for your dedication to saving lives."