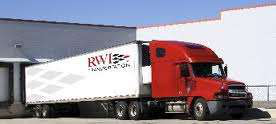 RWI Transportation, an asset-based logistics company that provides regional and national truckload, less-than-truckload, expedited and refrigerated warehousing services, received a Gold award from Great West Casualty Co. as part of the 2011 National Safety Awards Program.
"Safety is extremely important to RWI Transportation, and we take it seriously as part of our overall strategy and operation," says Richard Bauer, executive vice president and general manager of RWI Transportation. "This award clearly reflects the importance we place on safety, which is also vitally important to our customers."
According to Bauer, RWI has several safety initiatives in place within its operations and with its owner/operators, including online training programs for drivers, and its "Drive Safe Stay Smart" safety program, which was a result of a Six Sigma project to build a stronger safety culture. Bauer says that as a result of these initiatives and more, RWI's preventable accidents per million miles is lower than most other for-hire motor carriers.
The National Safety Awards program recognizes carriers in similar operations (truckload and LTL) with awards based on their yearend preventable accident results. This past year, the National Safety Awards program drew more than 600 participants from across the country.