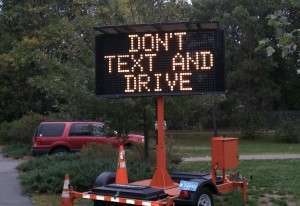 The National Highway Traffic Safety Administration on Monday, Aug. 20, announced a new grant program that will provide about $17.5 million to states that have laws banning distracted driving in fiscal year 2013. NHTSA estimates that at least 3,092 people were killed and an additional 416,000 others were injured in distraction-affected crashes in 2010, including crashes involving texting or other cell phone use.
"Distracted driving is a persistent and growing epidemic on America's roads, but there has also been incredible momentum in the states in recent years to pass laws that tackle the problem head on," said U.S. Transportation Secretary Ray LaHood. "This new grant program will provide states that have distracted driving laws with important resources to help save lives and prevent injuries."
Authorized by Congress under the Moving Ahead for Progress in the 21st Century Act (MAP-21), the grant program provides about $17.5 million in FY 2013 for states that have enacted and are enforcing anti-distracted driving laws, including anti-texting statutes.
To qualify, a state must have a comprehensive, primary law against distracted driving or a primary law prohibiting texting while driving, which allows law enforcement personnel to stop violators solely for distracted driving. States with secondary laws, which require law enforcement to observe a primary offense prior to enforcing the distraction law, would not be eligible. Under MAP-21, Congress also has authorized an additional $5 million for NHTSA to develop paid advertising to support state enforcement of laws against distracted driving.
"Whether the issue is distracted driving, drunk driving, seatbelt use or another safety concern, we count on our law enforcement partners in the states to help reduce the tragic toll of traffic deaths and injuries on our roadways," said NHTSA Administrator David Strickland. "These funds will allow us to build on the success we've seen in past campaigns that combined tough laws, strong enforcement and ongoing public awareness efforts."