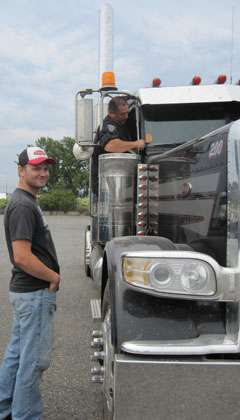 Thirty-eight trucks drove away from a truck safety workshop on Saturday, Aug. 18, in the Port of Tacoma's industrial area sporting federal safety stickers. The Washington state port and Fife Police Department partnered to offer the truck safety workshop and provide free truck inspections.
Certified inspectors from Fife, Sumner, Federal Way and Pierce County walked drivers around the trucks, explaining inspection criteria and providing Commercial Vehicle Safety Alliance stickers on the spot to trucks that passed inspection.
The port said some of the trucks had minor violations but were corrected on location to pass the inspection, while two of the 40 trucks that participated were unable to pass the inspection.
The stickers alert law enforcement officials to trucks that already have passed inspection, eliminating the need for roadside inspections for three months. As trucks and trucking companies demonstrate consistent safety ratings, they can save on insurance premiums.
Drivers said they appreciated the free event. "I feel it's better to be inspected by the officers to make sure we're safe and everything works correctly," said Sergey Derkachev, owner of SGM Global. "If something is wrong, I have the chance to fix it without a ticket."