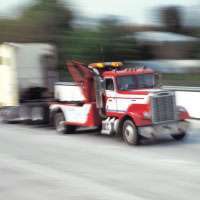 For a limited time, AmeriQuest Transportation Services, a provider of fleet management services, financial solutions and operational support services, is offering a free trial upon signup to the "AmeriQuest Road Rescue" fleet breakdown service.
AmeriQuest Road Rescue provides breakdown and repair service across North America from a centralized state-of-the-art call center staffed by maintenance coordinators available 24 hours a day, seven days a week, all year long. Calls are addressed through a national tracking system to expedite each occurrence in order to return customers to the road more quickly.
In addition, the breakdown service offers national account pricing for parts, equipment and services through AmeriQuest's national account pricing program, as well as electronic record keeping and reporting.
To sign up for the free trial with AmeriQuest Road Rescue, call 770-225-6587 or e-mail Byron Lay, director of AmeriQuest Road Rescue, at [email protected].