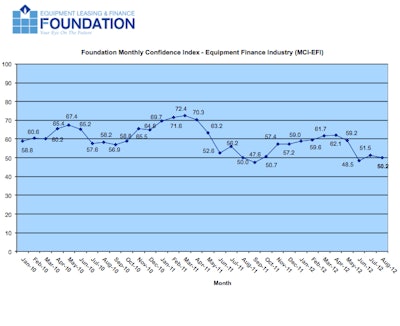 The Equipment Leasing & Finance Foundation's Monthly Confidence Index for the Equipment Finance Industry (MCI-EFI) for August released Tuesday, Aug 21, sees confidence in the equipment finance market is 50.2, down from the July index of 51.5, reflecting ongoing industry concerns over economic, regulatory and political uncertainty.
"My long-term view of the equipment finance industry is strong," said John McQueen, executive vice president and head of Wells Fargo Equipment Finance. "The shorter-term view of the U.S. economy and worldwide economy is volatile. The U.S. economic growth rate and the stability for the economy will continue to slow business investment."
Designed to collect leadership data, the monthly MCI-EFI index reports a qualitative assessment of both the prevailing business conditions and expectations for the future as reported by key executives from the $628 billion equipment finance sector.