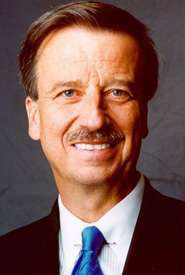 Daniel Ustian, president, chairman and chief executive officer of Navistar, is stepping down, the Lisle, Ill.-based company announced Monday, Aug. 27. Navistar's board of directors has appointed Lewis Campbell – former chairman, president and CEO of Textron Inc. – as executive board chairman and interim CEO.
The company also announced that it has promoted Troy Clarke, currently president of Truck and Engine Operations at Navistar, to president and chief operating officer.
"We appreciate Dan's many contributions and accomplishments during his 37-year career at Navistar," said Michael Hammes, Navistar's independent lead director. "Under his leadership, Navistar's revenue grew from approximately $7.7 billion to approximately $14 billion as the company significantly expanded its global reach and diversified its product portfolio, including the addition of Navistar's military business. We thank Dan for his dedicated service and wish him all the best in the future."
Campbell, 66, served as chairman of Textron, a $12 billion publicly traded industrial company, from 1999 to 2010, CEO from 1998 to 2009 and president for most of the period from 1994 to 2009. Under his leadership, Textron successfully underwent a transformation to increase efficiency of operations, consolidate manufacturing facilities outsource noncore operations and increase new product development.
Campbell initially joined Textron as COO in 1992. Prior, he spent 24 years at General Motors, where he served as vice president and general manager of Flint Automotive Division for Buick/Oldsmobile/Cadillac, as well as vice president and general manager of GMC Truck.
Campbell currently serves on the board for Bristol-Myers Squibb Co., where he has been lead independent director since 2008. He also is a board member of Sensata Technologies Holding N.V. and the board of trustees of Noblis Inc., a not-for-profit science, technology and strategy organization.
Clarke, 57, served as president of Navistar's Asia Pacific operations prior to his appointment as president of Truck and Engine Operations. He joined Navistar in January 2010 as senior vice president, Strategic Initiatives. Previously, Clarke spent more than 35 years with General Motors, where he served in a variety of roles, including president of General Motors North America, president and managing director of GM's Mexico operation, vice president of Manufacturing and Labor Relations and president of GM Asia Pacific.