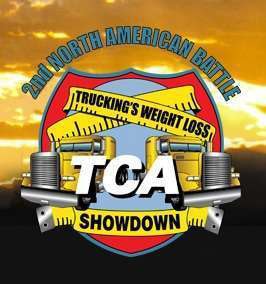 The Truckload Carriers Association's first weight loss challenge held earlier this year helped individuals lose a combined 3,022 pounds, or 10 percent of their collective body weight. TCA says the event was such a success that it will host another Sept. 24-Dec. 2.
The following six trucking companies will participate in the 2nd North American Battle of Trucking's Weight Loss Showdown:
• Bison Transport, Winnipeg, Manitoba;
• Dutch Maid Logistics, Willard, Ohio;
• Erb Transport, New Hamburg, Ontario;
• John Veriha Trucking, Marinette, Wis.;
• PGT Trucking, Monaca, Pa.; and
• Tyson Foods, Springdale, Ark.
Trucking's Weight Loss Showdown is a competition that challenges teams of drivers and staff from TCA-member truckload carriers to determine which individual and which company can achieve the greatest percentages of weight loss. The battle will last 10 weeks and will be managed for TCA by Lindora Clinic, a clinical weight management provider.
"After the amazing success of the first Showdown, and the synergy that was created with those teams, we are thrilled to have an opportunity to recreate the magic with this new group of Showdown contenders," says Kathy Ayres, Lean for Life On-the-Road project manager for Lindora Clinic.
Participants will follow Lindora's Lean for Life On-the-Road program, which stresses a low-carbohydrate low-fa, moderate protein menu plan coupled with exercise, nutrition education and lifestyle changes. Lindora coaches will contact each individual throughout the battle to provide nutrition education, help boost morale, discuss obstacles and record weight loss.
"The first Showdown was just the beginning, providing an intriguing glimpse at the positive results that can be achieved when people get motivated," says Chris Burruss, TCA president. "I hope there will be many more to come. … Showdowns are an excellent way for trucking companies to give back to their drivers and staff, helping them shed pounds toward the goal of improved overall health."
For a second time, TravelCenters of America/Petro Stopping Centers of Westlake, Ohio, will provide the incentive for the company whose team collectively loses the greatest percentage of weight. Its StayFit fitness room equipment package is valued at $13,000 (shipping not included) and includes the following commercial-grade items: a cable-motion dual-pulley strength frame rack, an Integrity elliptical cross-trainer and a recumbent stationary bike. The company also will provide restaurant and food gift cards or certificates valued at $3,000.
The individual who loses the greatest percentage of weight will receive $2,500 and a trophy, provided once again by Cline Wood Agency of Leawood, Kan.
Winners of the second Trucking's Weight Loss Showdown will be announced in mid-December. Company and individual winners will be honored in January 2013 at TCA's Recruitment & Retention Conference in Nashville, Tenn. For more information and updates, go to www.truckingsweightlossshowdown.com.