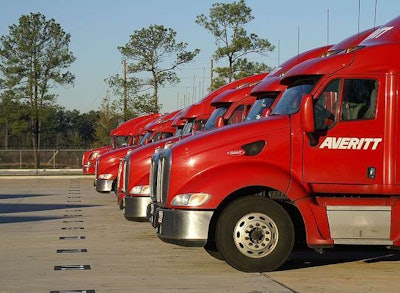 Averitt Express announced a change to its hiring requirements, lowering the minimum age for regional over-the-road drivers from 23 to 21. The Cookeville, Tenn.-based company also kicked off a student driver training program for recent graduates of approved driving schools.
The training program also features a tuition reimbursement plan of up to $1,000. Drivers who have been out of the industry for a while or who are short on experience also can benefit from Averitt's refresher and supplemental training programs.
"These modifications give us the ability to bring on additional quality drivers who are coming out of driving school," said Ken Chrisman, recruiting leader at Averitt. "We're excited about the opportunities we can offer to individuals who are looking to get into the transportation industry. Combined with the student driver, supplemental and refresher course programs we've set up in key markets, we've bolstered our position as a prime choice for a career in transportation."
All of this information, as well as other requirements and job listings, can be found online at www.averittcareers.com. The Website also serves as a "one-stop shop" for transportation professionals to learn about the company's culture and competitive benefits package.