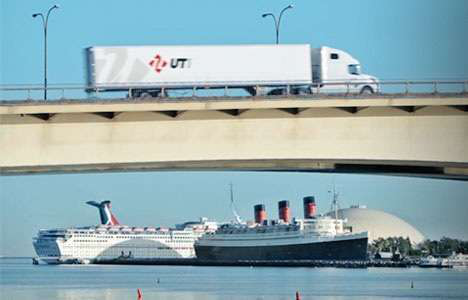 UTi Worldwide Inc. on Thursday, Sept. 6, reported revenues for its fiscal 2013 second quarter ended July 31 were $1,155.8 million, a decrease of 10.9 percent from $1,297.4 million during the same period a year ago. Net revenues – revenues minus purchased transportation costs – were $406.1 million, a decrease of 8.4 percent from $443.4 million.
Net income attributable to UTi Worldwide Inc. was $18.9 million compared to $22.9 million; excluding severance costs, adjusted net income was $20.3 million compared to $25.3 million.The impact from currency translation reduced net income by about $0.03 per diluted share.
"The anemic global economy and weak freight environment continued to weigh on results in our fiscal 2013 second quarter, which together with currency translation led to a 10.9 percent decline in revenues," said Eric Kirchner, chief executive officer of Long Beach, Calif.-based UTi Worldwide. "Trends apparent throughout the industry in the first quarter continued into the second, with companies still favoring ocean freight over airfreight and lower weight per shipment."
Kirchner said that while contract logistics and distribution was stable in the second quarter, clients have become more careful in their freight and logistics spending. "Revenues in the segment were lower than the same period last year primarily due to currency effects, while operating income improved," he said.
Kirchner said while the company is optimistic on the long-term outlook, there is little to suggest that the trends that impacted results in the first half of fiscal 2013 will change in the second half of the year. "While we don't control external factors, we do remain vigilant in controlling costs and driving increased sales," he said. "The deployment of our new financial and freight forwarding operating system continues, and we remain on track to achieve our long-term operating margin goals."