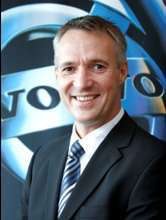 Volvo Trucks on Monday, Sept. 10, announced that Göran Nyberg has been appointed president of North American sales and marketing, responsible for all of the Volvo brand's commercial truck activities in the United States, Canada and Mexico.
Nyberg has more than 20 years of industry experience and has been with the Volvo Group since 2003. He has served in several senior management, distribution and sales positions around the world and most recently was managing director for Volvo Group UK Limited, the Volvo Trucks sales and marketing division in the United Kingdom.
Nyberg will be based at the company's North American headquarters in Greensboro, N.C., and will report to Dennis Slagle, Volvo Group executive vice president for Trucks Sales & Marketing Americas; his assignment is effective Oct. 1. Nyberg succeeds Ron Huibers, who recently was appointed president of Volvo Penta Americas.