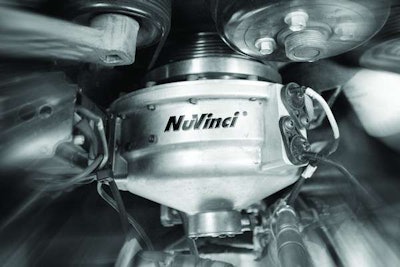 Allison Transmission Holdings, Dana Holding Corp. and Fallbrook Technologies on Thursday, Sept. 13, announced plans for high-efficiency gearless transmissions to serve the commercial truck and other vehicular markets.
The technology, developed by Fallbrook, will use a continuously variable transmission, which can change steplessly through an infinite number of effective gears. CVT has been used for decades in the automotive market. Fallbrook calls its system NuVinci CVP (continuously variable planetary) technology.
It will be late in this decade before the product is introduced to the heavy-duty truck market, officials of the three companies said during a conference call.
These transmissions will increase fuel efficiency, reduce emissions and improve overall vehicle performance, the officials said. CVT can improve fuel efficiency by enabling the engine to run at its "sweet spot" – the most efficient RPM for a range of vehicle speeds.
Compared to traditional transmissions, the NuVinci technology is smaller and less complex, costs less to manufacture and facilitates optimum performance, the officials said. They declined to speculate on how its pricing would compare with other transmissions.
Fallbrook's system, which will be licensed exclusively to Allison and Dana, is engineered to enable designers to reduce the complexity of transmissions, superchargers and other powertrain systems and allows engines to operate at more efficient speeds.
Allison plans to use CVP to develop primary drivetrain transmissions for markets that could include commercial vehicles, military applications and certain off-highway and large stationary equipment markets.
Under a separate agreement, Dana will hold an exclusive license from Fallbrook to produce transmission components and other advanced powertrain solutions with CVP for passenger and certain off-highway vehicles.
Full-scale production of off-highway transmissions with NuVinci-equipped components in Dana's markets is expected within three to five years. Implementation in passenger and commercial vehicles is anticipated before the end of the decade.
For Allison's markets, Dana and Allison have signed a letter of intent to explore a strategic alliance through which Dana would exclusively manufacture transmission components with NuVinci CVP technology for Allison.
NuVinci CVP technology, a traction-based CVT, controls relationships of speed and torque and is applicable to mechanical devices that have a transmission or can benefit from speed or torque variation. The NuVinci transmission uses a set of rotating balls between the input and output components of a transmission; tilting the balls changes their contact diameters and varies the speed ratio.
"As the premier global provider of commercial-duty fully automatic transmissions, Allison is committed to developing and implementing new technologies that meet the market need for improved performance, fuel economy and durability," said Lawrence Dewey, chairman, president and chief executive officer of Allison.