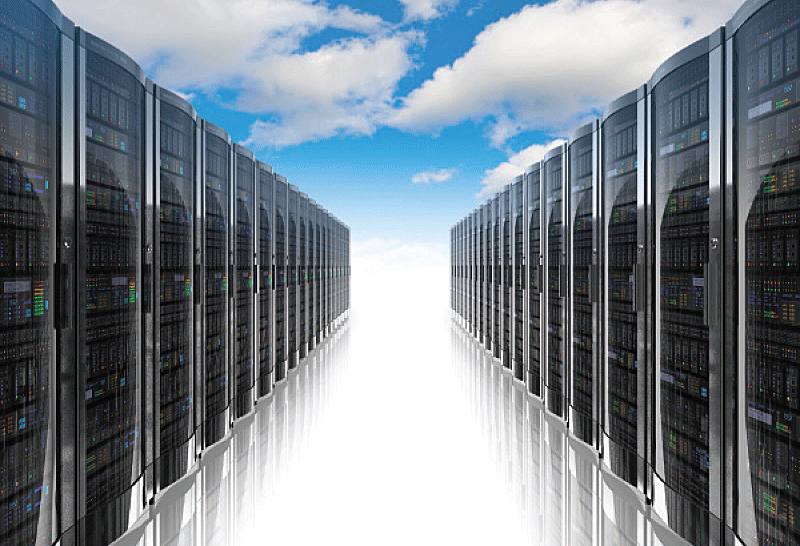 Fleets are finding more virtual means to manage a growing range of mobile assets
By Aaron Huff
While transportation companies have unique needs, all can agree that information becomes simpler and easier to access by a mobile work force with cloud computing. While this strategy has tradeoffs – particularly for an in-cab environment – fleets with the right set of tools can maintain tight control over security and reliability as they enter this brave new world.
When Quality Distribution Inc. upgraded its cloud technology, employees and drivers noticed improvements in the speed, mobility and efficiency with which they could access information.
QDI is a large, diverse publicly-traded transportation company with a decentralized business model. The Tampa, Fla.-based bulk hauler operates four business entities with 150 locations across North America, 80 percent of which are small offices with three to five computer users. Nearly all 3,000 drivers are independent contractors; QDI also provides IT services to an affiliate network of carriers.
"We are creating a network where you can bring any device that you want to work from if you feel it makes you more efficient."
– Cliff Dixon, vice president of IT, Quality Distribution Inc.
For years, QDI has managed its software and services from its central data center in Tampa. This cloud data center serves up software to the thin client or "dummy terminals" at each office; this setup enables QDI to limit the software it has to store and support on the remote devices.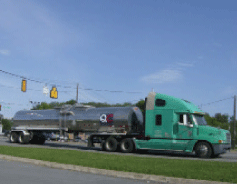 Cliff Dixon, the company's vice president of IT, reached a decision point early last year. People wanted more options to access information, and Dixon wanted a better way to manage software licensing and updates to the operating systems of hundreds of computers.
Dixon decided to embrace the Google model of cloud computing; from that point on, the Web browser would be the front end of the cloud. He converted QDI's e-mail system from Microsoft Exchange to Google Apps, and he also converted from Microsoft Office to Google Docs. With these changes, users could access, create, share and edit information and files using any device with a Web browser.
"We've seen a big shift in users converting documents into Google and pressuring others to do it," Dixon says.
QDI also converted its Windows laptops and desktops to Google Chromebook and Chromebox computers. The Chrome operating system is optimized for Web-based applications; eventually, all of QDI's software will become Web applications. In the meantime, the company is working with a technology vendor, Cloud Sherpas, to enable virtual access to native Microsoft Office applications such as Word and Excel through a Web browser.
"We are creating a network where you can bring any device that you want to work from if you feel it makes you more efficient," Dixon says.
Extending the cab
U.S. Xpress has embraced cloud computing as the means to give employees critical job information while they are away from the desk or the cab. The Chattanooga, Tenn.-based company has developed mobile applications for each type of mobile worker – drivers, salespeople, managers, executives, etc. – according to his or her individual needs.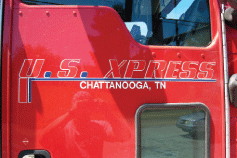 For drivers, management looked at what information would help them to best utilize their personal and on-duty driving time. The consensus was that drivers could benefit from interacting with time-sensitive dispatch information outside the cab. During the process of developing the apps, management carefully evaluated the type of data it would exchange with users and what this data meant for the organization.
"Dispatch really doesn't have that much information that you would need to be secure," says Ken Crane, director of IT operations. "So far, with the type of information we are providing drivers, we are comfortable relying on the carrier-provided networks for encryption, guaranteed delivery, etc."
U.S. Xpress uses the DriverTech Truck PC onboard computing platform in its vehicles. While in the cab, drivers can view current load information and upcoming assignments and interact with the touchscreen display to accept and respond to load offerings.
The same features are available using the mobile app, which the company has developed for the iPhone and Android platforms and can be downloaded through iTunes and Google Play. Once a driver downloads the app to a personal device, they go through a registration process to verify they are active in U.S. Xpress' host system. Dispatch information then is broadcast to devices as a notification alert.
For the future, the company is looking at developing a Web interface for most of its software applications, which would enable users, including customers, to pull information into personal devices for display purposes only. U.S. Xpress would retain the data in its host system.
While it is possible to develop applications for virtually any hardware device, U.S. Xpress is not considering changing its in-cab environment, Crane says. Having hardware integrated to the vehicle is critical to ensure that hours-of-service, shipment tracking and other information for compliance, safety and customer service remains reliable, he says.
"There are a lot of challenges for mobility to replace in-cab computers," says Crane, who believes a hybrid approach works best for "taking the in-cab system and extending its radius and ability to convey information to the driver so he is not bound within the constraints of the cab."
Retooling drivers
The power and affordability of popular consumer devices such as Apple and Android phones and tablets have expanded the options for fleets to manage their mobile assets and workers. In many cases, a subscription plan with no upfront costs represents a big departure from the traditional in-cab computing model.
About 1½ years ago, QDI began using Xata's Web-based fleet management system, Xata Turnpike, primarily for electronic driver logs, driver vehicle inspection reports and driver messaging and workflow.
Xata recently changed its name to Xata Road Science, and the Turnpike system now is called XRS; the system integrates with the vehicle's electronics through Relay, a small card-size device that connects to the databus. Relay communicates vehicle mileage, fuel economy and other information via short-range Bluetooth to an app installed on a handheld.
To date, QDI has supplied drivers with BlackBerry handsets to use XRS. Going forward, drivers will have more hardware options; in addition to using consumer devices to run XRS, drivers can use a Web browser on their device to access QDI's internal Website to retrieve pay statements and other information.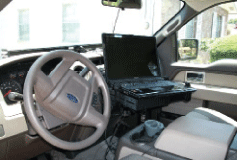 "We want to be a provider of value to drivers," Dixon says. "Drivers are in demand, and we want to be an attractive alternative. We make it easy to come onboard and easy to get to the data they need to do their jobs."
The ability to deploy XRS through a consumer-style model can speed implementation. Drivers can download an XRS application from the Google Play store or click on a link sent to their device from QDI. Once they plug in the Relay device, they can be using electronic logs and other features in minutes.
XRS offers the application on a monthly subscription basis with no upfront hardware costs and no minimum length of contract. Xata says the system soon will be available on more than 50 types of mobile devices to automatically transmit vehicle and operator data directly to a management dashboard.
J.J. Keller offers an onboard recorder for $199 that is compatible with Android smartphones to record hours of service and DVIRs through its Encompass E-Logs online reporting service, which starts at $3 per month. Customers can upgrade to the Encompass Premium Edition for $25 per month to get a performance dashboard with fuel usage, GPS location tracking and other driver metrics.
Qualcomm also recently announced development of an Android platform that will run the same hours-of-service, messaging, workflow, safety and performance monitoring applications as the company's present MCP; the difference is that fleets can use consumer-style Android devices for the display unit. Applications on the devices will sync with a stationary "black box" in the vehicle.
Qualcomm anticipates its new Android platform will be deployed mostly by small fleets as a low-cost approach for complying with hours-of-service and the Federal Motor Carrier Safety Administration's Compliance Safety Accountability program.
Even larger fleets that already use a Qualcomm MCP, such as the MCP 50 or MCP 200, might want to use Android as a complementary platform to run applications like messaging and workflow so that a driver could capture signatures and take pictures of freight at the point of delivery.
When used as a complementary system, the Android platform would not require a separate black box, says Norm Ellis, vice president of sales, services and marketing, who anticipates that larger fleets will not choose the Android system over the MCP because of the lack of control they would have with consumer devices.
How long would the hardware last? What if drivers lose or drop a phone? Fleets cannot afford interruptions in their reporting of safety, compliance and performance information. "A lot of things can happen when you go to smartphones," Ellis says. "Reliability and uptime are very important."
PeopleNet does not plan on releasing an Android version of its onboard computing and mobile communications system. Brian McLaughlin, the company's president, says consumer platforms do not meet the high levels of reliability and support required for industrial applications like trucking. "We want to provide commercial-grade devices," McLaughlin says. "We want to own the end-to-end accountability."
PeopleNet is in the process of integrating its software with rugged commercial handheld devices such as those from Intermec. For now, the company is focusing on a different market for smart devices: fleet managers who can use them to receive information and alerts with more immediacy and detail than through regular e-mail or a Web browser.
PeopleNet has released EventAlerter, a new safety and maintenance management app for the iPad that provides fleet managers with critical event alerts via their smart devices within seconds based on data from multiple sources; apps for the iPhone and Android will follow soon.
EventAlerter is available with a queue that includes a maintenance app that features fault code and tire pressure alerts, as well as a vehicle location and messaging app that allows executives to check up on key concerns with drivers.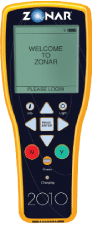 Zonar Systems plans to release an industrial-strength Zpad Android tablet that will be part of its 2020 onboard computing platform for commercial and private fleets. The platform will capture information from the vehicle's ECM and include fully compliant electronic logs.
The Zpad tablet will have built-in radio frequency identification technology for Zonar's vehicle inspection system that works by affixing coin-size RFID tags at locations on the vehicle. As the driver conducts a walkaround inspection, he scans each tag to confirm he was at the location and notes any defects in need of repair.
The Zpad was designed to provide value to drivers beyond the work routine through features such as Wi-Fi and 16 GB memory. "We chose to develop on an open platform so it is portable," says Chris Oliver, vice president of sales and marketing. "We want the device to be the driver's friend."
Managing devices
In the past, carriers traditionally would purchase mobile computers from the same vendor that supplied software and wireless communications. Today, fleets looking to expand the mobility of their enterprise are more likely to select hardware, applications and networks from multiple entities.
Adding more devices and applications makes mobile device management technology critical. Without it, the security and control of a fleet's information is at risk, and an additional burden is placed on IT resources.
QDI has to secure its information without restricting the use of devices that are not company property. With QDI's cloud environment, applications are accessed through a Web browser rather than a client app on a device. QDI is able to manage the security of its applications independently of devices by using Google Apps Mobile Management for functions such as erasing or "wiping" company data from devices, Dixon says.
Symantec, a company known for its anti-virus software, also has a large presence in the MDM arena. Its Mobile Application Manager product is designed to help companies oversee their cloud applications and can be used to enforce user policies and control access to applications and documents such as native Word and Excel files, says Brian Duckering, senior manager of Symantec's enterprise mobility group.
Intermec, a manufacturer of rugged mobile computers, provides iLauncher device management software and also owns a company called Enterprise Mobile that is a reseller and systems integrator of MDM software products for all types of devices and operating systems. It also can host the software for clients and provide help-desk support for a monthly fee.
Soti Inc. – a developer of technology for managing remote mobile and desktop computing devices – says it has more than 80,000 customers worldwide in logistics, retail, manufacturing, healthcare and government using its products to support devices running Windows desktop and handheld operating systems.
Cloud computing is on. While many carriers may not be ready for Android and Apple devices to be used for their in-cab environments, the technology can extend the radius of every mobile worker.