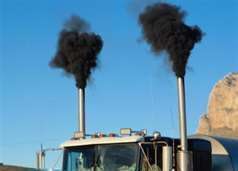 Coming on the heels of a 4,000-truck statewide inspection blitz, the California Air Resources Board says it hopes it sent a "clear message to truckers" about its clean air laws. Members of the California Highway Patrol, Caltrans and the California Department of Food and Agriculture inspected at 40 locations 4,053 trucks total in August for overall compliance to air pollution laws, including those requiring owners of certain model year vehicles to install diesel soot filters.
CARB called the campaign — Gear Up for Clean Truck Month — a "huge success" in terms of the compliance rate, 80 percent.
"While ARB will continue to dedicate significant resources to assist fleets in complying with California's clean truck requirements, owners and operators should understand that our enforcement efforts will continue throughout the year, and that our goal is to make every month a 'clean truck month,'" says James Goldstene, executive officer for CARB. "The word is out that ARB is fairly enforcing these critically important regulations and working to ensure a level playing field for everyone in the trucking industry."
A total of 817 citations were given during the four-week campaign. Reefer unit non-compliance accounted for 212 violations, non-compliance with CARB's Bus and Truck rule totaled 191 violations, idling infractions counted for 187 and Emissions Certification Label violations accounted for 174. The campaign focused on enforcement in Fresno, Otay Mesa and the Port of Oakland.
In its report on the month-long blitz, CARB said truck owners should take note of upcoming deadlines:
Dec. 31, 2013:
Reefer units with 2005 model year engines must be replaced with ultra-low-emission reefer units.
Jan. 1, 2013:
Under the Truck and Bus regulation, diesel truck fleets must either install diesel soot filters (or upgrade equipment) on trucks with 2000 to 2004 model year engines or meet phase-in option requirements.
For vehicles covered under the drayage truck regulation, 2005-2006 engine model year trucks greater than 33,000 pounds GVW rating must have diesel soot filters.
Tractor-trailer greenhouse gas regulation: (1) Fleets with 20 or fewer affected trailers must register if they want to use a compliance option that will allow them up to four additional years to participate in the small fleet compliance plan. (2) Low-rolling resistance tires are required for 2010 model year and older tractors that pull 53-foot-long box-type trailers. (3) SmartWay aerodynamic requirements must be met by all 53-foot or longer box-type trailers not using phase-in option.