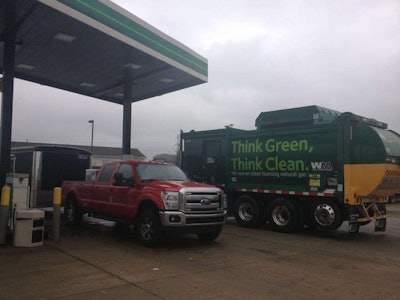 Venchurs Vehicle Systems, a CNG Converter for Ford, will join its sister-company, VWerks, at the 2012 SEMA (Specialty Equipment Market Association) Show in Las Vegas Oct. 29-Nov. 2. (booth 24701). Making the trek from Michigan to Las Vegas is a Venchurs' converted 2012 bi-fuel Ford F-350 which will tow one of VWerks' custom vehicles scheduled to be debuted at the show. VWerks will be announcing three vehicle programs at the SEMA Show and will have three vehicles on display, in addition to the bi-fuel Ford F-350 which will be displayed outside.
The road trip, which will cover nearly 2,000 miles over the course of four days, will address two of the biggest concerns surrounding compressed natural gas powered vehicles—infrastructure and loss of power. The bi-fuel model eliminates any concern over range anxiety with its combined range of over 650 miles, and with CNG prices nearing half the cost of regular gasoline in some places, the savings of using CNG on a road trip are immense. Additionally, Venchurs wants to demonstrate that towing capabilities are not reduced when driving on CNG.
On the trip from Detroit to Las Vegas, Venchurs will be stopping at dealerships and CNG stations across the country, showing off its Ford conversion. Social media will play an instrumental role on the road trip as daily updates will be posted to Venchurs' various social media channels. Fans and followers will be engaged through related contests and promotions—all information will be posted on the Facebook and Twitter pages of Venchurs CNG, as well as the Facebook and Twitter pages of VWerks.