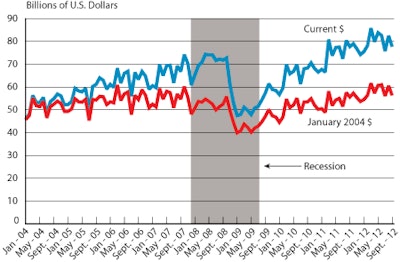 Trade between the United States and its North American Free Trade Agreement partners — Mexico and Canada — was 0.1 percent lower in September 2012 than in September 2011, according to a report from the Department of Transportation's Bureau of Transportation Statistics. NAFTA surface trade for the month totalled $77.7 billion, unadjusted for inflation, the report says.
These numbers mark the first year-over-year decrease since November 2009. Adjusted for inflation and exchange rates, however, BTS says the September 2012 total was up 1.4 percent from September 2011, totaling $56.3 billion in 2004-value dollars.
BTS says the September 2012 NAFTA surface trade value represents a 35.6 increase from September 2009 — the end of the last recession.
The amount of surface transportation with Canada and Mexico increased by 69.6 percent in September 2012 from September 2002, and surface trade accounted for 86.4 percent of U.S. trade by value with Canada and Mexico, with air and vessel movement accounting for 4.1 percent and 9.5 percent, respectively.