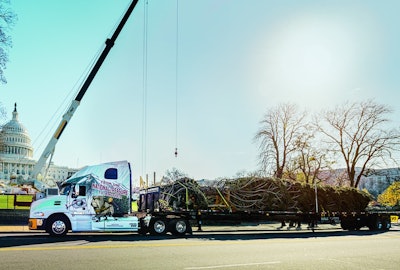 A Mack Pinnacle that's spent weeks toting the 73-foot Capitol Christmas tree around the country reached its final destination Tuesday — the west lawn of the U.S. Capitol — where it was unloaded, stood up and decorated.
The Pinnacle picked the tree up from the White River National Forest in Colorado and drove 5,300 miles on a cross-country tour. Mack decaled the truck with a tough-looking bulldog towing a large tree across a snow-laden landscape, and the truck was equipped with a Mack MP8 engine and Mack's proprietary mDrive automated transmission.
The tree will remain on the west lawn throughout the holidays and will be lit daily at dusk with 10,000 LED lights.