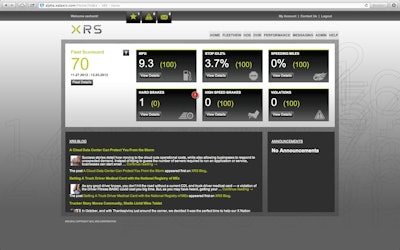 Like most parents with young kids, I remember and curse the day I introduced my kids to video games. Hopefully this negligence on my part won't alter their bright futures, but judging by the way things are headed, games will become part of their careers.
My seven year-old boy, for example, has become obsessed with earning money, points and other achievements to unlock new levels. Forget the pristine graphics or dynamic movements of the game; he's not interested. As for myself, I never enjoyed games until about six months ago after I heard some people talking about their favorite game on the iPad, Words with Friends. I decided to give it a try. Soon I understood why so many Americans play online or mobile games: they are extremely fun and addicting.
Online or mobile games are especially popular among Generation X and Y. Drivers in this age group are the future of the transportation industry. This generation is comprised of people born after the late 70s. They grew up playing high-tech games on devices such as the X-Box and Playstation and continued to feed this frenzy with online and mobile games on smartphones and tablet devices.
One way to stay better connected with these drivers, as well as older drivers, is to find ways to "gamify" areas of their work experience. In the upcoming February issue of CCJ, I explore how several technology developers in the trucking industry, as well as their customers, are looking to capitalize on the gaming trend.
Pro Fleet, a 40-truck flatbed carrier in Elkhart, Ind., is one of several fleets that are using an online rewards program for their drivers from Stay Metrics called "Drive for Gold."
About five months ago, Pro Fleet set up a PC in its drivers' lounge. Drivers can use the PC to check e-mail, surf the Web or prepare a document, but most never leave the homepage. From here they can login to the company's rewards program.
Like some of the Baby Boomers we know, the company had one driver who used to avoid computers. He now logs in immediately when he comes to the office. He earns points by answering a safety question. He also sees his point balance increase weekly for safe driving, turning paperwork in on time, fuel efficiency and other areas. Each point gets him closer to items on his wish list.
"The driver didn't want anything to do with the program at first," says Mike Gregory, safety director of Pro Fleet. "He thought it was just another flash in the plan. Now he is one of the biggest cheerleaders. That by itself is a huge victory."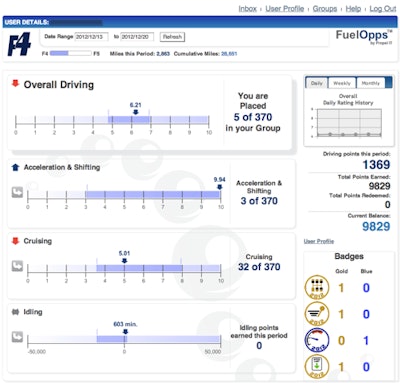 In November, 2012, Covenant Transport began to evaluate an online fuel program, or game, that drivers could "play." The company began using this program, called FuelOpps, as a pilot project. The Chattanooga, Tenn.-based truckload carrier operates a fleet of nearly 3,000 drivers. For the pilot, Covenant is using FuelOpps with 450 drivers.
So far, the results are encouraging.
"Drivers that have accepted it have liked it. FuelOpps has created a sense of competition where drivers can see how well they are doing against their peer group," says Doug Schrier, vice president of continuous improvement.
With the widespread use of smartphones, tablets, and even in-cab computing platforms, drivers have become more conscious of their social status through sites like Facebook and how they rank among their peers. Companies are starting to add social media elements to the "game" features of driver incentive and reward programs.
This "gamification" topic was one of the most interesting ones I've covered in the 12 years I've been writing for CCJ. I think it has a lot of potential for fleets to find new ways to engage their drivers, especially the younger generation.